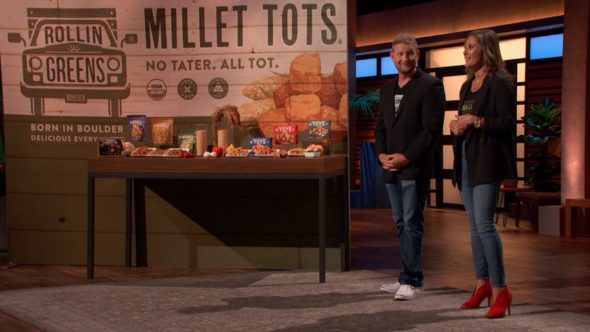 Ryan and Lindsey Cunningham didn't invent Rolling Greens, Ryan's parents did. Way back in 1980, Ryan's mom and dad ran a food truck in Boulder called Rolling Greens. Thirty years later, Ryan – a trained chef – and his wife decided to reopen the truck and serve the Boulder community once again. After five years, they decided to close the truck and re-focus the business.
That's when they started selling Rollin Greens Millet Tots. They're like tater tots, but without the taters. Millet is an ancient grain that grows in the USA, including the couple's native Colorado. The tots are from Ryan's mom's old recipe. They also sell cauliflower "chicken wings."
Sell them they do, too. In the five years since starting the business, they're in over 2000 stores nationwide.Plant based options in grocery stores are increasingly in demand and ancient grains like millet offer a high protein alternative. They purposely started with just the one product – the tots – so they could focus on growing the business. They come in three flavors: Onion & Sea Salt, Basil & Garlic, and Sweet Potato & Poblano Chili. The more recently added "wings" come in Teriyaki, Spicy Green Buffalo and Sweet Mustard. My guess is they want to further expand their offerings and they want a Shark's cash to help fuel growth.
My Take on Rolling Greens
I am not vegan but one of my daughters is. She makes some tasty dishes and would probably love these, if she hasn't tried them already. I'd call and ask her, but she runs an ICU and she calls me when she can the past few months. These things are pretty expensive. A six pack of 11.5 ounce tots on their website is $72. That's $16.70 a pound!
I'm sure they're less expensive in stores, but it's a pricey item. I probably wouldn't eat them regularly, but I'd try them once or maybe have some on hand when my daughter visits. Like I said, plant based foods are a growing trend and with meat prices going up due to Covid-19, maybe they won't look so expensive soon!
Will Sharks Roll in and Invest?
Frozen foods are a tough sell in the Tank, but alternative foods are not. Robert and Kevin will likely pass as this type of business isn't their forte. Lori, Daniel and Mark are a different story. The Cunninghams seem to have their business rolling at a good clip. Mark likes entrepreneurs he doesn't have to do a lot of hand holding with and he "eats clean."
Daniel is in the food business and he could provide real value if he likes the valuation. Lori has food products in her portfolio and this is the kind of thing she likes to eat. If Rolling Greens gets an offer, it'll be from one of these three Sharks.