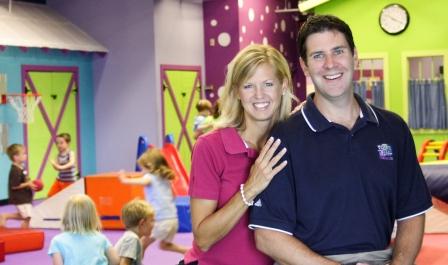 Michael and Babz Barnett, a husband and wife entrepreneurial team from Virginia, pitch Romp n Roll – a kids activities center – in episode 112. The Romp n Roll slogan is:  "Nurture the genius. Unleash the goofball." The Barnetts created a play center for 3 month olds to six-year olds that combine movement activities, music, and art in an environment that promotes learning while having fun. Parents are encouraged to participate in activities with their children. Romp n Roll also offers birthday parties and summer camps.
The Barnetts want to franchise Romp n Roll and they're looking for a Shark to help them expand.
Romp n Roll Shark Tank Recap
Michael and Babz enter the Shark Tank seeking a $300k investment for 10% of their business. They have 10 locations, including one in Puerto Rico. In five years, they've accrued over $4 million in revenue with a 30% profit margin. This catches the Sharks' attention, but they think the Barnetts are over valuing the business. Mr. Wonderful reminds the Barnetts he sold a children's business for $3 Billion.
Mr. Wonderful goes out, as do Daymond and Kevin H. Barbara says she's scared of this kind of business since her local Gymboree recently closed; she's out too. With four Sharks out, the Barnetts continue to pitch to them while ignoring Robert, who "acts" offended. He offers $300,000 for 51% of the business. The Barnetts go into the hall to chat and Mr. Wonderful offers to go halfsies on the deal with Robert. When the Barnetts return, they counter with $300K for 20%, but Robert and Kevin don't think the business is worth that much. They're out.
Romp n Roll  Shark Tank Update
They didn't get a deal, but the business continues in their original locations. There are now 95 international  franchises; including one in China and one in South Korea. There are 17 more planned locations for 2017. Not getting a deal didn't kill this business by any stretch of the imagination.
As of 2021, the business has over 300 indoor playground franchises in the U.S. and China. They plan to add 10 to 15 new franchisees each year. Annual revenue is $4 million.
Company Information