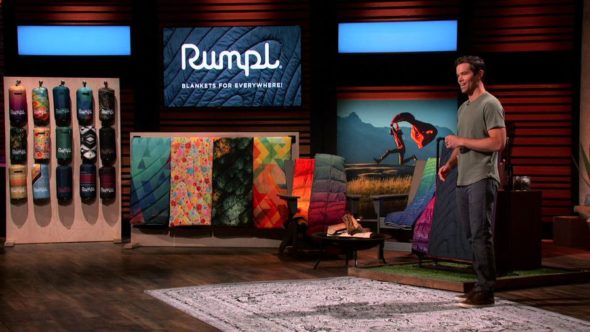 Wylie Robinson hopes the Sharks warm up to Rumpl, his "puffy blanket" business, in the season twelve premier. Back in 2013, Wylie and co-founder Nick Polinko (not on the show) were sleeping in a van while returning from a ski trip in California. When they woke up, the van wouldn't start and they had no cell service. Since it was freezing temperatures, they huddled in their synthetic down sleeping bags.
While waiting, they wondered why they couldn't make a blanket out of their sleeping bag materials. When they got back home, the guys borrowed a sewing machine and made the prototype Rumpl blankets. The blankets use nylon that is water, stain and odor resistant and they're filled with synthetic down. After using them for a few months, they believed they were on to something.
They got the business going with a successful Kickstarter campaign that raised a whopping $216,889, much more than the $15,000 they were seeking to raise. Needless to say, it was a huge success. They decided to use Kickstarter every time they had an idea for a new product. After four more successful Kickstarters, Rumpl now sells blankets, heated blankets, ponchos, dog beds and much more. In 2018, the company started making all their products from 100% recycled materials, reducing their carbon footprint.
After six years in business and millions in sales, the company is likely at a plateau. They most likely want a Shark's help getting to the next level. Will a Shark cozy up to this opportunity?
Company Information
Video

Posts about Rumpl on Shark Tank Blog
Rumpl Shark Tank Recap
Wylie enters the Shark Tank seeking $600,000 for 4% of his business. He tells his story and gives the pitch, then the Sharks get their samples. The Sharks are impressed with the sales numbers, so much so, it prompts some questions. When the Sharks find out he has $3 million in the bank, they want to know why he's here. He says he wants to get into sports licensing and Mark says it's the worst excuse ever. Daymond said he could hire people to do sports licensing with $3 million.
Mark isn't buying the sports licensing angle; he's out. Wylie makes an offer to Kevin: a $600,000 loan at 10% payable in 2 years and 5% of all sports licensing revenue. Daymond offers a $600,000 loan for 2 years at 10% plus 5% of all sales for two years. Blake offers to partner with Daymond on the deal. Daymond would handle licensing and Blake would "blow up his wholesale by 500%." Blake also wants to split 4% of the company with Daymond. Kevin offers $600,000 for 4% plus $10 a blanket royalty until he recoups $1.8 million. At this point Lori goes out. Blake then modifies the deal to take 10% equity. Wylie counters with the same offer except he wants to give 4% equity. Daymond then goes out. Blake holds on for 10% and Wylie declines all offers.
Rumpl Shark Tank Update
The Shark Tank Blog constantly provides updates and follow-ups about entrepreneurs who have appeared on the Shark Tank TV show. Wylie took a lot of heat on social media for being a "gold digger" who only went on Shark Tank for the commercial. It really doesn't matter though, as of July, 2021, company revenues are $8 million annually. By February, 2023, they have product in Wal Mart, Bass Pro Shops, Cabela's REI, Dick's Sporting Goods, Nordstrom's and more. The company sells towels now too. They've also secured a licensing deal with the NCAA and they're collaborating with NASA's Artemis project, Carhartt, Westerlind and Billabong. Annual revenue is $8-$9 million.