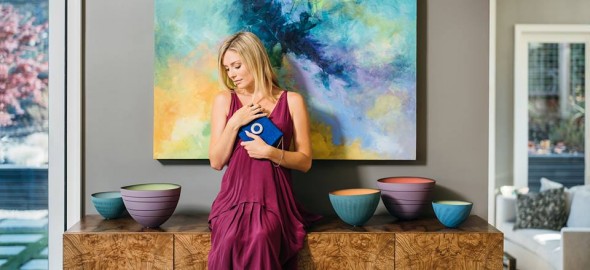 Sarah Oliver pitches her eponymous handbag business, Sarah Oliver Handbags, to the Sharks in Shark Tank episode 714. Each bag is meticulously hand knitted from the finest highland Peruvian wool and accessorized with custom brooches, chains, and magnetic snap closures. Like many businesses, Sarah began making her bags as gifts for friends and family. When stores started calling her about carrying her line, she knew she had a business.
What makes Sarah Oliver Handbags special – besides the elegant designs – is the people who make them. All Sarah's handbags are hand knitted by a Redwoods, California knitting group – The Purlettes+1. They are a group of senior citizens (average age 88) Sarah approached to be her "factory." Sarah grew up knitting with her grandmother and has a deep love and respect for senior citizens and the role they can play in the economy. By all appearances, the Purlettes +1 (the one is for the lone male Purlette) are a happy and productive workforce.
Sarah Oliver Handbags are available on her website and at several dozen boutiques throughout the USA. They aren't cheap: prices range from $300 to $549. She also does custom work for special occasions, like weddings. The success of the business model could be easily duplicated. perhaps Sarah is looking to expand nationally with an army of senior citizen knitters.
Will a Shark stitch up a deal for Sarah Oliver Handbags?
Sarah Oliver Handbags Shark Tank Recap
Sarah Oliver opens with an "at home" segment where she gives a brief background on how she started her business. We also meet the Purlettes +1, an engaging and energetic group of senior citizens who thoroughly enjoy working for Sarah. Hector, the only male Purlette (he's actually the "+1"), says working keeps him young. Sarah wants the Sharks to invest in her so she can keep brining value to the Purlettes +1.
Sarah enters the Tank seeking $250K for 20% of her business. She explains that no handbags on the market come with meaning and explains her manufacturing model via a video of the Purlettes +1.
The Purlettes +1 are thrilled with Sarah's success. The Sharks are touched by the story.
Barbara asks if it's a business or a charity. Sarah replies "Oh it's a business!" She hands out samples. Inside each purse is a card from the Purlette that created it. Sarah pays each Purlette $17 per bag and Mr. Wonderful asks if she's running a geriatric sweat shop.
The toatl cost per bag, with labor, is $47 and they retail from $250-$550. Sarah did $300K in sales last year. She says choosing the Purlettes was a natural thing; each knitter makes about 3 bags a week. Lori is touched by the story of valuing the elderly and offers $250K for 25%. She wants all the Sharks to split it to make a statement – 5% for each Shark.
Robert thinks it's going to blow up – he's in. Mr. Wonderful wants to know the numbers and how much money they can make. Sarah currently works with two retirement communities and has 5 retirement communities ready to go. Neither Mark nor Barbara want in. Kevin says he'll go in for $250K for 30% split three ways between himself, Robert, and Lori. She accepts and says the Purlettes are going to be SO EXCITED!
RESULT: DEAL with Lori, Robert and Kevin for $250K for 30%
Sarah Oliver Handbags Shark Tank Update
The Shark Tank Blog constantly provides updates and follow-ups about entrepreneurs who have appeared on the Shark Tank TV show. On show night, the story of the Purlettes resounded so well with the public,  the website crashed due to massive traffic. Sarah is well on her way and we will continue to follow her progress.
Sadly, in April 2017 Sarah closed up shop. The US Department of Labor came knocking and told her paying for piece work was illegal. This video sheds some light on the story:

Posts About Sarah Oliver Handbags on Shark Tank Blog
Sarah Oliver and the Purlettes (+1)
Sarah Oliver Handbags Company Information
Video