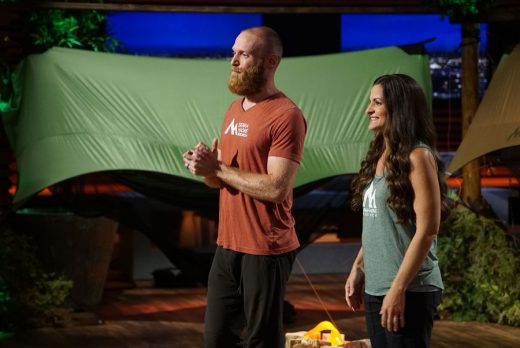 Richard and Juli Rhett, husband and wife entrepreneurs and outdoor enthusiasts, pitch Sierra Madre Research in episode 903. The company makes high quality camping gear with an emphasis on camping hammocks and canopies. Richard is a Research Mechanical Engineer and self-professed "gear snob." He got the idea for his product while "spreading the love of Christ" and helping poor, rural Hondurans with medical needs in 2009. He couldn't find a suitable hammock, so he invented one when he returned home in 2010. Richard made the first prototypes with a second-hand Sears sewing machine!
He named the company Sierra Madre Research (SMr) after the Sierra Madre mountain range which goes from Arizona all the way to Honduras. The mountains have varied terrain, climate and culture and Richard wanted his products to fit in every one of them. The company has a social mission, too. A portion of each sale goes towards drilling clean water wells in rural Central America and the products are manufactured in Nicaragua..
Richard and his wife Juli – a former Alaska-Yukon Tour Operator – share a love of the outdoors and want to see "every nook on the planet." The couple brings the Nube Shelter –  the Sierra Madre Research flagship product – on every camping trip. Nube Shelters act like a tent that's suspended off the ground. Their Nube hammock shelter package includes a canopy, fly netting, gear storage area and hammock. Combo packages start at $349 and you can add an insulating sleeping bag for $249.
So far, the reviews from campers are positive. Sierra Madre Research likely wants help getting into large retail chains and with production. Will a Shark want to set up camp with this business
Company Information
Video

Posts About Sierra Madre Research on Shark Tank Blog
Sierra Madre Research Shark Tank Recap
Richard and Juli enter the Shark Tank seeking $175,000 for 15% of their business. There are hammocks onstage as they tell their story and give their pitch. The Sharks come up to try the hammocks and find them comfortable. They are profitable with $210,000 net profits the previous year. Sales are $400,000 so far this year.
Daymond likes the business and their social mission, but he doesn't know how he could help them; he's out. Lori thinks the space is crowded; she's out. Robert and Mark quickly follow. Sir Richard loves the business and offers $175,000 for 15% – exactly what they asked for. He has one condition: he wants all his profits to go to charity. Who wouldn't refuse that deal?
Sierra Madre Research Shark Tank Update
The Shark Tank Blog constantly provides updates and follow-ups about entrepreneurs who have appeared on the Shark Tank TV show. The deal with Richard Branson did close and he has nothing but high praise for the company. Since airing, they introduced new products: the Ninox – a large flat laying hammock with a bug net attached and the Hot Pocket and the Ember that use solar energy to create heat on cold nights. They also introduced air mattresses, air chairs and many other camping related items.
The 2020 Pandemic brought some challenges to their manufacturing and shipping endeavors, but they managed to work through them. Richard and Juli helped develop two new water systems in remote villages in Central America to provide them with clean water. As of November, 2022, the company is still in business earning $4 million in annual revenue.