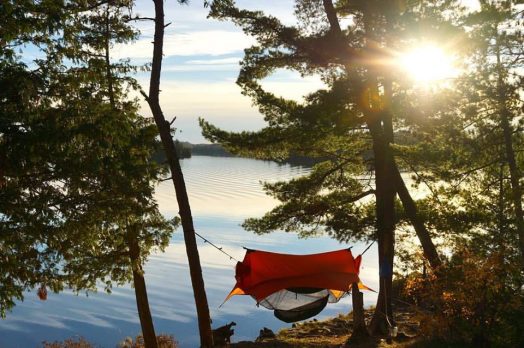 The Nube Hammock Shelter is the flagship product of Sierra Madre Research. Husband and wife entrepreneurs Richard and Juli Rhett hope to wrap up a deal with the Sharks when they pitch their outdoor gear line in the season 9 premier. The couple are avid adventurers: Juli ran tours in the Yukon and Richard spent many years hiking and camping in central America while conducting missionary work. Richard made his first hammock in 2010 after returning from Central America and that experiment morphed into the Nube Hammock Shelter system.
The company name comes from the Sierra Madre mountains which span thousands of miles through all kinds of climate and cultures. Richard has a fondness for the rural people of Central America and he honored it, in part, with the company name. His fondness goes beyond that. A portion of each sale goes towards drilling fresh water wells in rural Central America and the company makes its products in Nicaragua.
Richard is an engineer by profession and he brought his meticulous nature to the Nube Hammock Shelter design. The hammocks hold up to 300 pounds, but the Nube Hammock Shelter package includes a canopy, fly netting, gear storage area and hammock. The whole package weighs in at just under four pounds, so it's a true light-weight option for serious backpackers. Add to that you sleep off the (sometimes) cold ground in the comfort of a hammock and you have the perfect camping tent that goes up virtually anywhere. For traditionalists, you can add a "floor" and pitch it like a traditional tent. They also offer an even lighter weight (and less expensive) system called the Stratos.
Consumers spent over $2.5 billion on camping gear in 2016, so there is a big market for the Nube Hammock Shelter and other Sierra Madre gear. If the product does what it promises, it's sure to become a very popular alternative to traditional tents. When you aren't camping, you can use just the hammock for relaxing just about anywhere. Richard and Juli likely want a Shark's help with broader distribution. Which Shark wants to go camping with this adventurous couple?
My Take on The Nube Hammock Shelter
I was an avid backpacker and camper in my twenties. Age and creaky bones keep me away from camping for the most part now, but back then, my idea of fun was strapping a pack on my back and disappearing into the woods for three or four days. I'd even invite dates camping; if they balked, I wouldn't date the girl!
I hike most of the Appalachian Trail in New England, all the White Mountains including multiple summits up Mount Washington, and parts of the Canadian Rockies back in the day. On one trip to Mount Washington, my cousin and I woke at dawn at the tree line to find the summit under clouds. We ran down the mountain, bought a couple cases of beer and ran back up to the tree line camping area. At around 10 AM, the summit cleared and we went up. At the end of the day, we retrieved our beer from the stream we hid it in and had a party. We were the most popular guys in the campsite that night. Ah youth!
I would have loved a Nube Hammock Shelter in those days. In many places (like the tree line of Mount Washington), there were lean-tos so I didn't have to carry a tent, but the boards weren't comfortable. When I carried my (then) high-tech tent, I still slept on the ground. Even my young, strong self woke up with a kink in my back on more than one occasion. Sleeping in a hammock is a big improvement over those two options. It's also good for winter camping. Staying off the cold ground keeps your body core warmer. I probably won't want one now that my camping days are over, but if the Nube came with a time machine, I'd be 100% in.
Will the Sharks Like this Tent Pitch?
Once again, I think Lori passes. She doesn't strike me as the outdoorsy type. Likewise for Mark; I get the feeling his idea of camping is when room service is late! The other three Sharks could take a bite.
Daymond is an outdoorsman, despite his "uptown" appearance. He enjoys hunting and fishing and those activities sometimes involve camping. He'll like the design and functionality of the Nube Hammock Shelter, but will it be enough to invest? Robert is also outdoorsy and this product could fit well with some of his other Shark Tank investments. Sir Richard Branson has probably done more camping than all the other Sharks combined and in some pretty extreme places, too. While his camping days, like mine, may be over, he could recognize the quality of the company.
I think all the Sharks will like the product and the pitch should be entertaining, but I think Sierra Madre Research leaves the Tank without a deal.