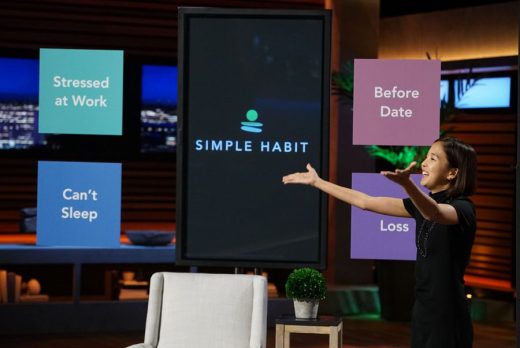 Yunha Kim hopes she gets an investment for Simple Habit, her meditation app, in Shark Tank episode 903, the season nine premier. The app lets users unwind through meditation in a variety of settings. Instead of getting into a seated position with closed eyes, users choose from different meditation exercises based on their current setting or situation. There are numerous 5 minute meditation exercises for driving, flying on a plane, getting ready for a meeting and more.
Kim started the business after needing a way to de-stress after working at an internet startup. The former investment banker left that company in 2015 and turned to meditation to center herself. In 2016, she collaborated with a Harvard psychologist to create the app which launched that July. It targets busy young professionals who need a calming influence in their busy work life.
The app is free for the basic version, but the enhanced versions cost $49-$99 per year. So far, it has positive, 5 star reviews and is one Apple's "apps we love." People from surgeons to parents to young professionals use it to decompress.
Will a Shark find this a mindful investment?
Simple Habit Company Information
Video

Posts About Simple Habit on Shark Tank Blog
Simple Habit Shark Tank Recap
Yunha enters the Tank seeking $600,000 for 5% of her business. She starts her pitch and asks the  Sharks to meditate with her, but Mark mocks her valuation during this exercise. When she finishes, the questions start.
So far, she has 500,000 users and her revenue for the year is $750,000. The app is free, but premium content is $11.99 per month or $99 per year. There are currently(as of the date of taping in summer 2017) 5000 premium users. So far, they raised $2.8 million at a 10 million valuation. They are not profitable yet, but project $5 million in revenue next year (2018).
Of the $2.8 million, they've only used $500,000. Lori and Daymond want to know why she's here. Mark goes out and calls her a gold digger. Daymond thinks she's taking an opportunity away from a business that really needs the money; he's out. Lori goes out next, stating she didn't think Yunha needed the money; she is out. Mark says she's just here for the commercial and the Shark Tank effect.
When Richard says he wants in at $300,000 for 10%, mark mocks him and Richard throws his glass of water at Mark's face and Mark retaliates. Robert said he's go in with Richard at $300,000 for 10%, making the total between the 2  Sharks $600,000 for 20%. After Yunha starts crying, Robert goes to 15%. Yunha says she can't do that and both Robert and Richard go out.
Simple Habit Shark Tank Update
The Shark Tank Blog constantly provides updates and follow-ups about entrepreneurs who have appeared on the Shark Tank TV show. Yunha had 75,000 downloads on show night. Less than three weeks later, the creator of Whil, a competing wellness app, publicly accused Yunha of stealing his business model and conducting business espionage at his firm. Read about that mess HERE. Ironically, Virgin Pulse, a Branson company, had partnered with Whil earlier in 2017. Read about that deal HERE.
In November, 2017, the app hit 1 million downloads. She also made the Forbes 2017 30 Under 30 list. By the end of 2018, they were the number one meditation app in the Apple store and were adding 30,000 users a week. In November, 2018, the company raised another $10 million.
In February, 2019, the company faced a class action lawsuit in California claiming the company "made charges to customers' payment methods for ongoing product shipments or deliveries of service, without obtaining those customers' consent." In response to the Covid-19 pandemic, the company introduced "Better Together,"  a personal Meditation Studio, a feature that allows individuals to invite family, friends and colleagues to meditate together in real-time – even when they're not in the same room.
As of June, 2022, the lawsuit is still open as is the business. Annual revenue is estimated at $34 million. The same month, Yunha introduced Sleep Reset, an app that brings users services and treatment normally found in sleep clinics.