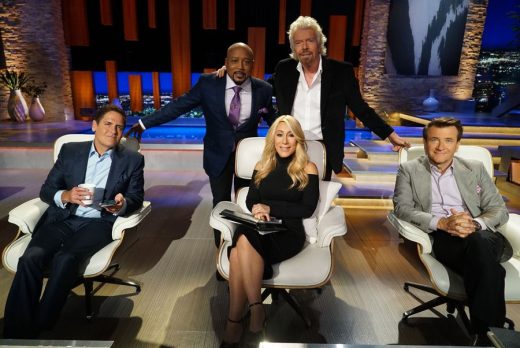 Shark Tank is back for a new season on a new night when episode 903 airs at 8 PM on Sunday, October 1, 2017 on ABC. In the first of two episodes, 4 new businesses vie for an investment from one of the wealthy Sharks. Billionaire Sir Richard Branson joins the panel and he has some choice words for Mark Cuban. Cuban replaces Mr. Wonderful in the center seat in the first episode without the bombastic "host" of the show.
Carrie and Carlson Kropfl, a mother/son team from San Clemente, California, seek a partner for Locker Board. Their business builds small skateboards from upcycles materials that fit into a school locker or back pack. Richard and Juli Rhett pitch Sierra Madre Research, their camping hammock and canopy business. Aaron Wypyszynski, founder of WYP Aviation, hopes his wing board, a wakeboard for airplanes, will fly with one of the Sharks. Yunha Kim looks for investors for Simple Habit, an app that helps people de-stress with five-minute meditation exercises.
Which business gets the first investment of the new season?
Entrepreneurs
---
Update Segment – Profile on Sir Richard Branson
Sir Richard Branson is one of the most recognizable billionaires in the world. The adventurer, philanthropist and entrepreneur founded over 400 companies, including record labels, airlines, telecommunications and even a space travel business. A brief history of his business life replaces the standard update segment in this episode.
There are 28 Shark Tank Episodes for Season 9. This season features more appearances by "guest Sharks," including billionaire Sir Richard Branson. The 200th episode also airs this season. Casting is currently closed, but it never hurts to get a head start on season ten! If you would like to appear on the show, check out our Auditions and Casting information.
Episode 903 – The Shark Investors and Entrepreneurs
The Shark Tank Episode 9 entrepreneurs will make their best pitch to the panel of five Shark investors who will use their own money if they choose to invest. The Shark Investors negotiate on the spot without any previous information, which differs from typical negotiations between venture capital investors and entrepreneurial start-ups.
Companies pitching the Shark Investors must go through a rigorous due diligence process before an on-air deal is completed. Shark Tank Blog follow ups help you keep track of the companies that end up successful and the ones that don't complete their deal.
Thank you for reading SharkTankBlog, the number one site for Entrepreneurs, Investors and Fans. Our content updates multiple times day, giving you the latest information on Episode 903, Season 9, and all other seasons and episodes.
Episode 903 Press Release
ABC's 'Shark Tank' Returns on a New Night for Season Nine with Two Episodes on Sunday, October 1
September 13, 2017
SEASON PREMIERE
'SHARK TANK,' THE GROUND-BREAKING AND MULTI-EMMY AWARD-WINNING SERIES THAT BOTH ENTERTAINS AND INSPIRES, RETURNS ON A NEW NIGHT FOR SEASON NINE WITH TWO EPISODES ON SUNDAY, OCTOBER 1
New Sharks Featured in the Tank Premiere Night Are  Sir Richard Branson, Iconic Philanthropist and Billionaire Founder of the Virgin Group, and  Rohan Oza, Branding Expert and Prolific Investor in Knockout Hits
Vitaminwater, Smartwater, and Bai.
"Episode 903" – Things get fiery in the Tank when Sir Richard Branson vents his frustration with Mark Cuban in a shocking, never-before-seen way. An 11-year-old inventor, skater and surfer from San Clemente, California, solved a problem he had by recycling a skateboard deck to fit inside lockers and backpacks; an entrepreneur from Meridianville, Alabama, is revolutionizing aerial sports with his exhilarating human flight experience; a husband and wife team from Vicksburg, Mississippi, have literally elevated the camping experience with their outdoor camping gear; and an entrepreneur from San Francisco, California, claims her five-minute meditation app will help the world reduce stress, improve focus and sleep better.
Adventurer, entrepreneur and philanthropist Sir Richard Branson is featured in a profile highlighting how he made a career out of breaking tradition. Founder of the Virgin Group, Sir Richard has created more than 400 companies spanning travel, financial services, telecom, health & wellness, and more recently, space travel.
The Sharks in this episode are Mark Cuban, Daymond John, Lori Greiner, Robert Herjavec and Sir Richard Branson.