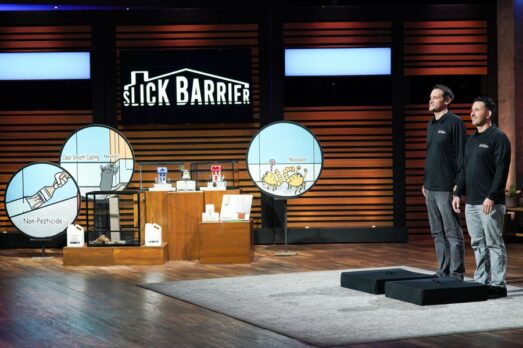 Aaron and Tony Gonzales pitch Slick Barrier, their innovative pest control solution, in Shark Tank episode 1413. Aaron first got the idea in 2013 when he and his family bought their dream house. There was a big problem though: it was infested with scorpions! He even got stung in his house. The couple was worried their 3 year old son would be next. He noticed scorpions couldn't climb out of a plastic jar and he envisioned making a smooth barrier to keep them out of his house.
A few weeks after that episode, Tony's 4 year old son was stung by a scorpion and nearly died. That's when Tony decided to join Aaron in this new venture. They worked with several chemists to come up with a product that dries smooth and clear and lasts a long time. When they got a formula that worked, Slick Barrier was born. Simply apply several inches of Slick Barrier all around the bottom of the perimeter of your house and it will dries smooth so bugs and rodents can't climb it. The product is pesticide free and in an independent study, it was proven to be 100% effective.
They officially started the business in 2018 as 95 Applications. At first, it was a side hustle for them. Aaron quit his job in telecommunication sales in 2020 to go full time. Tony left his law partnership in early 2022 to join Aaron full time. The product has 2 patents and 4 patents pending. They tried to get things going with a Kickstarter campaign that was unsuccessful, reaching only $897 of a $40,000 goal. Given their lack of fundraising success, they likely want a Shark's cash for inventory.
Company Information
Video

Posts about Slick Barrier on Shark Tank Blog
The Slick Barrier – Pest Control
Slick Barrier Shark Tank Recap
Aaron and Tony enter the Shark Tank seeking $500,000 for 10% of their company. They did a deal with Lori for $100,000 plus a $400,000 loan for 15%.
Slick Barrier Shark Tank Update
The Shark Tank Blog constantly provides updates and follow-ups about entrepreneurs who have appeared on the Shark Tank TV show. The first rerun of this episode in June, 2023 is just 3 months after the original air date. At this time, there is no evidence the deal with Lori closed. The company is actively soliciting investments on their website. They are launching in Las Vegas in June as well in some stores and with some professional installers. Reliable revenue information is not available at this time.
The Shark Tank Blog will follow-up on Slick Barrier & Aaron and Tony Gonzales as more details become available.