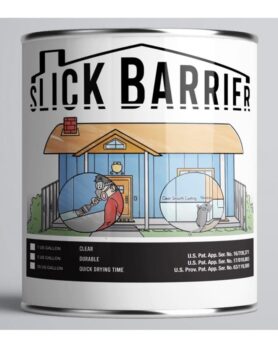 Friends and pest control business owners Aaron and Tony Gonzales (no relation) created The Slick Barrier to keep scorpions out of their homes. The Slick Barrier is a patented coating you apply to the base of your house and when it dries, it's a plastic-like, clear barrier. Scorpions can't climb it. Neither can rats and lots of other pests. If they can't climb over the barrier, they can't get into your house!
Aaron and Tony both had scorpion infestation issues in their homes. Aaron got stung and Tony's son got stung and almost died. The two men brainstormed the idea for The Slick Barrier while in the hospital. They say it doesn't replace regular pest control treatments, but it can lessen the amount of chemicals you need to apply.
The Slick Barrier comes in two versions, both of which are needed for a successful treatment. It applies like paint, so just paint one to two coats of the water based product and, once it dries, apply a sealing coat of the solvent based product. A "large home bundle" comes with 1 Gallon Slick Barrier Water Base, 2 quarts of Slick Barrier Solvent Base, a brush, gloves, and a cup. It costs $199 and all the application instructions are on video. Aaron and Tony want a Shark's help getting this into every hardware store and big box home centers. Will the Sharks think this is a slick idea?
My Take on The Slick Barrier
The day the press release came out for this episode was the day I had my quarterly pest control application. In Florida, if you don't do this quarterly, you'll be overrun with bugs. Now my pest control guy is a neighbor and we're on friendly terms, so I showed him a video of the product in action and he said "where can I get it?" When I told him online, he said it needs to be in Lowes. He also recommended the guys sell direct to pest control companies so it can be an add-on service. If my pest control guy is sold, I am too!
Do Sharks Think This is Slick?
I can only recall one other pest control product in The Shark Tank: Critter Pricker. That company did an on air deal with Kevin O'Leary. The deal never closed because there were a lot of similar products out there. That means there is precedence for a pest control company getting a deal, albeit with a small sample.
I think Kevin could make an offer. Robert could too. They both go for utilitarian types of products. Lori has a lot of experience getting products into Lowe's and Home Depot – think FiberFix and ScreenMend. I don't think Mark or Daymond will go for it though.