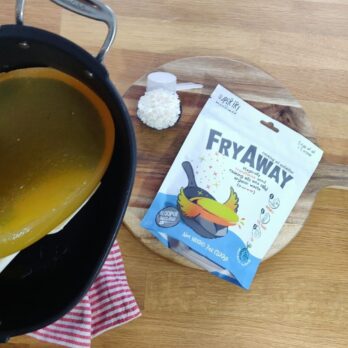 Laura Lady invented Fry Away because she loves fried food but hates the mess. Frying, while it may not be the healthiest way to cook, makes for delicious food. Fried chicken and fried fish are very popular. The problem is, what do you do with all the leftover frying oil? You don't want to pour it down the drain, that could clog up your pipes or worse, help create a "fatberg." "Fatty McFatberg" is perhaps the most famous of them all. In 2017, workers found a 250 meter, 130 ton glob of congealed fat, oil and sanitary products in a London sewer. It became somewhat of a worldwide sensation. So yeah, don't pour the grease down the drain!
It was actually Fatty McFatberg that inspired Laura to create Fry Away. She started looking for solutions to dispose of used cooking oil and fat and it led her down a bit of a rabbit hole. After 6 months of research, she came up with her plant based product that solidifies used cooking oil so it can be safely disposed of in either the trash or compost heap. This is far more planet friendly than putting it into a container and throwing it in the trash. I think it's even better than Grease Bags.
While Laura didn't have much of a chemistry background, her 20 plus years of branding and marketing in the toy industry likely helped with opening some doors and building sales. She's doing a good job, too: she has product in over 1100 stores including Kroger's. Basically, FryAway is powder you pour into your fry pan or deep fryer. The powder uses the process known as hydrogenation to turn the oil into a solid mass. Laura has taken the business a long way, now she's looking for a Shark to help take it to the next level.
My Take on Fry Away
I have a deep fryer and I use it outside because when I use it inside, it makes the house smell. Whenever I bring home fish, we fry it. I use it for chicken cutlets when I make chicken parm too. On Super Bowl Sunday, I whip up wings. Three or four times a year, I cook fries to make Poutine. So yeah, like Laura, I like my fried foods!
I save old coffee cans to get rid of my used oil. The oil goes in the can, then in the trash. I don't use plastic containers to dispose of oil, but coffee cans do have a plastic lid, so it's not a very sustainable way to get rid of it. I just started shopping at Kroger's online. The next time I order, I'm going to pick some up. You can buy it on Amazon, too.
Will Sharks Think This Sizzles?
I think this business will field an offer or two. It solves a real problem in a sustainable way. Since it's somewhat of a grocery item, Mr. Wonderful will likely pass. Mark might see it as a "product, not a company." The other three Sharks could be interested though.
Daymond will like Laura's branding expertise, so he could make an offer. Robert has to make an offer on something tonight, it might as well be this! It'll probably be too "Sharky" though. That leaves Lori and I think she'll make an offer because it would sell well on QVC.