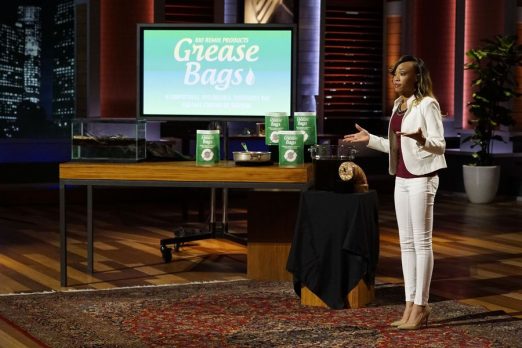 Latangela Newsome hopes to bag a Shark for an investment in Grease Bags, her eco-friendly invention that allows people to compost their used cooking grease, in Shark Tank Episode 811. Newsome – a single "momtrepreneur," acted in the Nickelodeon TV series Taina from 2001-2002. She was inspired to create Grease Bags from her love of cooking. She didn't like pouring grease down the drain or putting it in plastic, disposable bags because it added to pollution.
The solution is her patent-pending, all natural, non toxic, absorbent bags that allow for easy and green composting. As of her air date on Shark Tank, Grease Bags are not available to the public. She's still in the testing phase and she's looking to produce the bags for sale by May, 2017.
In December, 2016, Latangela had an unsuccessful Kickstarter campaign that raised only $75 of a $25,000 goal. Besides getting funding for her business, Latangela says her "challenge is educating people on the importance of proper grease disposal and how simple the solution really is." Will a Shark grease Latangela's palms with some cash?
Grease Bags Shark Tank Recap
Latangela enters seeking a $75,000 investment for 25%. She somewhat nervously demonstrated the product and handed out samples after some prompting from Robert. She also fed him and the other Sharks some chicken wings she'd fried to provide her demonstration grease!
When questioned about the grease absorbing material, she explained it was similar to bio remediation products used for oil spills and that it was safe. She said she had a patent pending on the bags. Grease Bags are still in the prototype stage and she's pricing them at $12.99 to avoid financial issues; her cost is $2.34.
At this point, Lori says she never fries food and goes out. Barbara exclaims that she loves fried bacon for breakfast. Mark thinks a green product doesn't necessarily position itself well to people who fry things, so he goes out. Kevin has some problems with the packaging, but he admits he'd never use the product, so he's out too. Robert like Latangela, but there's too many unknowns since she's still at the prototype stage; he's out.
Barbara is interested, but wants to cut the price to $6.99. Latangela thinks she could do that. Barbara offers the $75,000 for 50% contingent on getting costs and the pricing lower. Latangela takes the deal.
Grease Bags Shark Tank Update
The Shark Tank Blog constantly provides updates and follow-ups about entrepreneurs who have appeared on the Shark Tank TV show. The deal with Barbara never closed, but Latangela tried to push on. She ran into production and distribution SNAFU's and had a lot of angry customers in December of 2017. Grease Bags decided to use Selery, a Mark Cuban backed fulfillment center in Dallas, to distribute the product. They were finally delivered, but the website (as of February, 2019) is not functioning and there were no new Facebook posts for a little over a year.
As of May, 2021, the website is back up and running and the social media is being updated fairly regularly. She had the bags for sale on Zulily in April, 2021, but in May her website says they're available for pre-order only. As of December, 2021, you can buy the bags on the company website and Amazon. In July, 2022, she was "sold out" of product on her website and Amazon once again. In January, 2023, she is offering Grease Bags on a "pre-order" basis.
Posts About Grease Bags on Shark Tank Blog
GreaseBags Eco-Friendly Grease Disposal
Grease Bags Company Information
Video