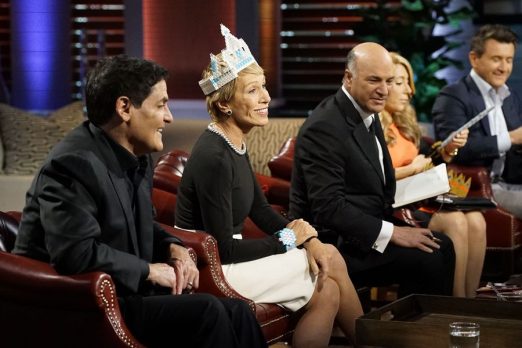 Shark Tank episode 811 features the "Sharkettes" as four new entrepreneurs seek an investment to start, grow, or save their businesses. Latangela Newsome, a single "momtrepreneur" and former actress, hopes to bag a Shark when she pitches Grease Bags, an eco-friendly, compostable, cooking grease disposal product. Elena Petzold hopes a Shark wants to nurse her business along when she pitches Mamas Milkbox, a subscription nursing apparel business that evolved from a successful maternity wear business she owns. Vladislav Smolyanskyy hopes a Shark wants to play with PinBlock, his new, one-size construction block toy he first conceptualized with a childhood friend. Yoga enthusiast turned entrepreneur Lisa Binderow hopes the Sharks like NicePipes, her line leg and arm warmers made from yoga pant materials.
Which business leaves the Tank with a deal?
In the third "Shark profile" segment of season 8, we get a look at Daymond John's humble beginnings. We'll see how he grew FUBU from a small operation running out of his home into a $6 billion dollar brand.
There are 28 Shark Tank Episodes for Season 8. This season features more appearances by Chris Sacca and a host of other surprises. Casting is currently closed, but it never hurts to get a head start on season nine! If you would like to appear on the show, check out our Auditions and Casting information.
Episode 811 – The Shark Investors and Entrepreneurs
The Shark Tank Episode 811 entrepreneurs will make their best pitch to the panel of five Shark investors who will use their own money if they choose to invest. The Shark Investors negotiate on the spot without any previous information, which differs from typical negotiations between venture capital investors and entrepreneurial start-ups.
Companies pitching the Shark Investors must go through a rigorous due diligence process before an on-air deal is completed. Shark Tank Blog follow ups help you keep track of the companies that end up successful and the ones that don't complete their deal.
Thank you for reading SharkTankBlog, the number one site for Entrepreneurs, Investors and Fans. Our content updates multiple times day, giving you the latest information on Episode 811, Season 8, and all other seasons and episodes.
Episode 811 Press Release
Episode 811 (1/13)
A SINGLE MOM HOPES THE SHARKS WILL GET COOKING WITH HER GREEN GREASE DISPOSAL BAGS, AND A YOUNG MAN FROM UKRAINE HAS AN EPIC TAKE ON BUILDING BLOCK TOYS, ON ABC'S 'SHARK TANK'
In the Third in a Series of Shark Profiles, Fashion and Branding Expert Daymond John Tells His Story, Which Includes a Hometown Visit to His Hollis, Queens, New York Neighborhood.
"Episode 811"— A single mom from Allen, Texas, believes her eco-friendly grease disposal method will be enough to cook up a deal; a 21-year-old from Ukraine and now living in Brooklyn, New York, makes the Sharks speechless with his epic display of block toys and his knowledge about the toy industry; a mother from Pittsburgh, Pennsylvania, zealously pitches her stylish nursing apparel for breastfeeding moms; and a yoga enthusiast from New York, New York, admits she has limited fashion or business experience, yet hopes the Sharks will want to invest in her modern take on legwarmers.
Daymond John is featured in a profile highlighting his road to entrepreneurial success. Highlights include how Daymond overcame adversity growing up in Hollis, Queens, New York and created FUBU, the hip-hop apparel company, while working as a waiter at Red Lobster. With shrewd marketing, he expanded the urban streetwear label into a $6 billion fashion brand. The profile also spotlights how he became a Presidential Ambassador of Global Entrepreneurship, and his appreciation for how his mother's investment allowed him to achieve the American Dream, on "Shark Tank," airing FRIDAY, JANUARY 13 (9:00-10:01 p.m. EDT), on the ABC Television Network.
The Sharks in this episode are Mark Cuban, Barbara Corcoran, Kevin O'Leary, Lori Greiner, Robert Herjavec.