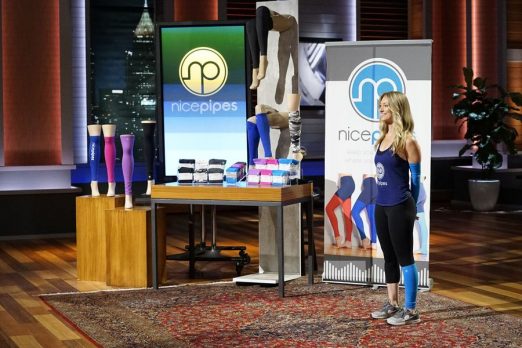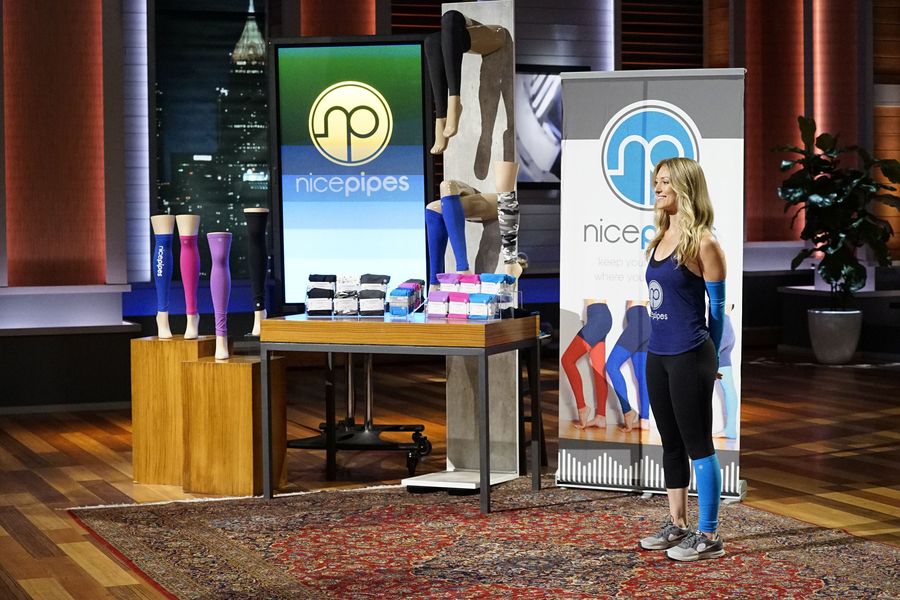 Lisa Binderow looks to grow NicePipes, her line of yoga inspired leg and arm warmers, with some help from the Sharks in episode 811. Binderow is a yoga enthusiast who was an employee of Yoga Works, a national yoga studio chain, as a trainer and program manager for 7 years. She started Nice Pipes in 2014 after people asked about her leg and arm warmers.
As a New Yorker, Lisa frequently found herself running to the yoga studio in cold weather. She didn't like the scratchy feel of wool leg and arm warmers – and her yoga clothes weren't enough to keep off the chills of a New York winter. To solve her problem, she made arm and leg warmers out of yoga pants material.
Fellow yoga enthusiasts loved her creations and soon she was getting requests to buy them. That's when she decided to open up shop and start NicePipes. To date, her products are selling well on Amazon. Arm warmers sell for $32, knee-high leg warmers are $42 and thigh-high leg warmers are $46. They come in a variety of colors and patterns and have the added benefit of providing mild compression.
Lisa likely wants a Shark's help growing her business into big box retail. Will a Shark think these pipes are nice?
NicePipes Apparel Shark Tank Recap
Lisa enters seeking $100,000 for 10% of the company. She explains how and why she invented them and hands out samples as the questions fly. She tells the Sharks what she sells them for and that she makes them for $7.50-$10. All products are USA made.
To date, she's sold $80,000, which prompts Robert and Mark to question her valuation. Kevin doesn't think it's proprietary and she'll get knocked off. When Lori asks how much Lisa has in the business, the Sharks are aghast that it's $300,000 – including $65,000 worth of inventory.
Kevin can't get past the valuation and goes out. Robert quickly follows for the same reason. Mark tell her she should get out there and sell her inventory, then he goes out. Lori likes Lisa and thinks it's a nice business, but it's not for her so she goes out.
Barbara is the Last Shark left and she offers $100,000 for 40%, contingent on Grace and Lace partnering with Nice Pipes. Lisa counters with $100,000 for 25% and Barbara says no. Lisa politely declines Barbara's offer and leaves without a deal.
NicePipes Apparel Shark Tank Update
The Shark Tank Blog constantly provides updates and follow-ups about entrepreneurs who have appeared on the Shark Tank TV show. NicePipes is chugging along with steady sales on Amazon and in Yoga studios. Lisa likes her balanced life of running the business and teaching her yoga classes and is quite happy.
She says, at the end of the day, it wasn't worth it to her to give up 40% of something she worked so hard on. As of August, 2023, the company is still in business with lifetime revenue of $4 million. Lisa is focusing more on her activites as a lactation consultant these days.
Posts About NicePipes Apparel on Shark Tank Blog
Arm and Leg Warmers by Nice Pipes
NicePipes Apparel Company Information
Video