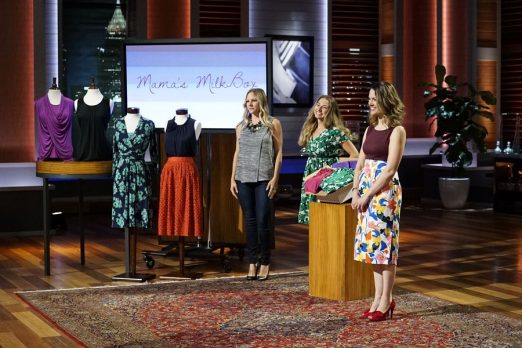 Elena Petzold hopes to milk some cash from a Shark when she pitches Mamas Milkbox, her subscription box maternity clothing business, in Shark Tank episode 811. Petzold also owns Maternity Girl LLC, a Pittsburgh based business that sells new and "gently used" maternity clothes at various markets, trunk shows, and in customer's homes. It's kind of a Tupperware for maternity clothes.
With Mamas Milkbox, she wants to take the concept global. Customers complete a profile on the website and submit payment information. Each month, new maternity clothes come in a box. You have three days to try on the various items and return the ones you don't want. Your credit card gets billed for the stuff you keep.
Most of the clothing are breast-feeding tops and dresses, but there are other items for the mom-to-be in the repertoire. Mommy bloggers rave about the service and the business is growing. It's a natural extension of the Maternity Girl business, so Petzold has a good grasp on the market. She likely needs a Shark to help her fuel growth. Will a Shark want to nurse this business along?
Mamas Milkbox Shark Tank Recap
Elena enters seeking $200,000 for 20% of her business. She demonstrates the clothing with a baby doll while explaining the subscription service. Robert looks for clarification on how it works and appears concerned. Lori thinks Elena needs a good accountant. Kevin tries to get clarification on the business model, but Elena keeps talking over him.
Kevin thinks she will go out of business with an unsustainable model and Mark thinks she's a bit of a know it all. She keeps offering confusing, off-handed answers to the Sharks' questions. After a string of talking over the Sharks and not answering questions directly, the Sharks go out one by one and Elena leaves without a deal.
Mamas Milkbox Shark Tank Update
The Shark Tank Blog constantly provides updates and follow-ups about entrepreneurs who have appeared on the Shark Tank TV show. Shortly after Shark Tank aired, Kevin's prediction came true. Elena closed the business. She now works as a marketing consultant in Pittsburg and is developing a new bracelet start-up called Bucky and Bling.
Posts About Mamas Milkbox on Shark Tank Blog
Mama's Milkbox Eaten Alive by the Sharks
Mamas Milkbox Company Information
Video