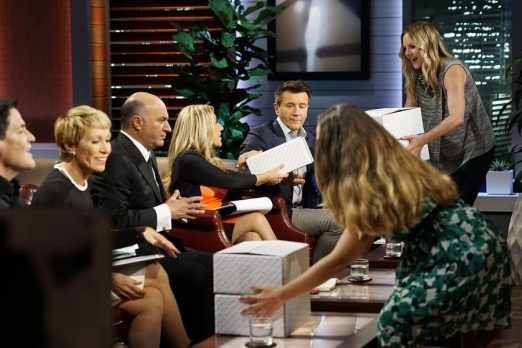 Mama's Milk Box creator Elena Petzold created the business she pitches on Shark Tank from another business. She had solid success with a company called Maternity Girl where she curated and sold fashionable maternity clothing at markets, trunk shows, and home parties. While doing so, she found an unmet demand for good-looking breast feeding clothing for new moms. Elena leveraged her first business to create a subscription based business aimed at breast feeding mothers.
Subscription based sales are becoming a ubiquitous way to buy everyday items from socks to soap to razors. Mama's Milk Box, as far as I can tell, is the first service to aim at the breast feeding mothers niche.
To subscribe, you fill out a style profile on the Mama's Milk Box website. Once you do that, a  "Whole Milkbox" arrives at your door with 5-7 items inside. Pick the ones you want to keep and send the rest back. Every six weeks, another box comes with more items. It's pretty simple.
Basically, Petzold found a way to expand her Pittsburgh based business nationwide. The business is fairly new and her social following hasn't reached critical mass yet, but it's a continually renewing niche.
My Take on Mama's Milk Box
With 5 kids, our family went through a lot of breast feeding. We've dealt with pumps, clothing items, midnight feedings – you name it. One thing I know as a husband is breast feeding is trying on mothers, particularly those 2 AM specials. New moms go through a lot physically and emotionally and they need support.
Feeling good about themselves was important to the mommas in my life. Their bodies change, moods change, and self-esteem can suffer. Getting some stylish clothes goes a long way to feeling better about themselves. As they say: "happy wife, happy life." That's true for moms, babies and husbands alike.
I think this is the best type of gift a husband can give to his new mom/wife. It will surely pay dividends down the road, for everyone involved. For that reason, I'm in.
Do Sharks Subscribe to this Idea?
I think all the Sharks like the clothes and the concept, but I am pretty sure there's no deal here. For one, the business doesn't appear to have enough proof of concept. The Sharks want sales, not big ideas that sound good. Secondly, while there is always a market for breast feeding clothing, it's a market that constantly resets. Customer acquisition is a HUGE issue here.
Some subscription businesses do well in the Shark Tank, but many leave with no deal because they don't have the sales. While I believe Elena has a terrific niche and will be successful, I think she does it without a Shark.