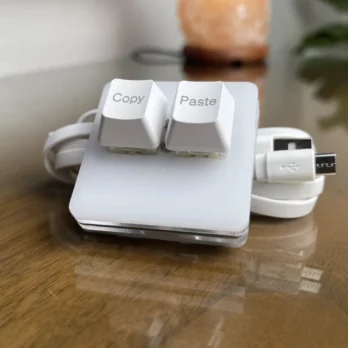 The Copy Keyboard is a two key "keyboard" with just a "copy" and a "paste" key. It's aimed at people who do a lot of copying and pasting on their computers. While there are copy/paste shortcuts in Windows and Mac operating systems, this just makes it a tad easier.
Simply plug The Copy Keyboard into a USB port and you're good to go. Entrepreneur Scotty Trujillo sells them on Tik Tok where his quirky videos demonstrating the product have over 25 million views and counting. Based on the reviews posted on his website, his customers love it. For people who do a lot of repetitive copying and pasting, like for Excel spreadsheets, the product is a Godsend.
The Copy Keyboard is only $20 and it doesn't require any special software. They come in white or black and white or black with LED lights. Whether it's the newest useful computer gadget or just a passing fad remains to be seen.
My Take on The Copy Keyboard
As a professional Blogger, I do a lot of copying and pasting – mostly for adding hyper links. I use my mouse and the tools built into WordPress to accomplish this though, I don't use keyboard shortcuts. This means I'm probably not a customer, but I think there are a lot of customers out there for Scotty. I wish him well.
Do Sharks Invest?
Scotty has one big objection to overcome with this product: it's not proprietary. There are literally dozens of similar products like his out there – even on Tik Tok. This is the death knell for anything appearing on Shark Tank. His website looks like a Shark isn't involved. The Sharks will go out one by one. I think Scotty will sell a lot of these, but he's going to be doing it without a Shark's help.