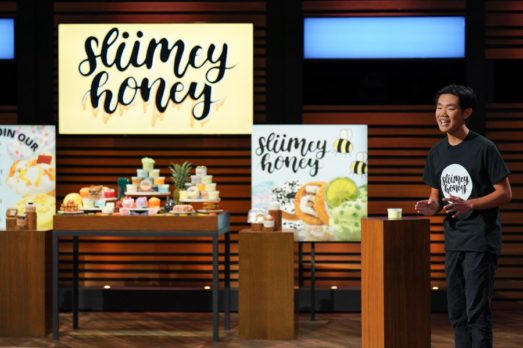 Mark Lin pitches Sliimey Honey, his upscale slime business, in Shark Tank episode 1406. Lin started the business in 2018 when he was a teenager. Originally, he sold on Etsy; he moved to his own website in 2020. The slimes are made from glue, borax, and essential oils. Some have a "firmer" texture while others are really slimey. There are dozens of varieties on his website. Many have glitter and charms mixed in with the slime.
Sliimy Honey scents its slime with a wide variety of scents, too – but it is NOT edible! Each tub of slime comes with some borax to rejuvenate the slime. Most slimes cost between $11 and $14 and are only available through the company website.
Mark drove his business through Tik Tok videos and Instagram. He has over 900,000 Tik Tok followers. This has allowed him to ship his slime all over the world. To date, he's sold "thousands" of tubs of slime all over the world. Each Saturday, a new slime gets "dropped" which keeps his social engagement high. He likely wants a Shark's help scaling the business.
Company Information
Video

Posts about Sliimey Honey on Shark Tank Blog
Sliimey Honey Shark Tank Recap
Mark enters the Shark Tank seeking $150,000 for 10% equity in his business. Ever since he was little, his parents told him to never play with his food. Mark couldn't get enough; he  loved the smells, textures and how the food squishes between his fingers. He wanted a way for everybody to play with their food, that's why he created Sliimey Honey: gourmet, "next level slime" that looks and smells like your favorite foods. One of Mark's favorite foods is banana milk, that's what inspired him to make banana milk slime that feels and smells like bananas. With over 100 slimes to choose from, there's a scent and texture for everyone. He says his slime drops sell out every week and that he wants to be an entrepreneur for the rest of his life.
The Sharks examine their samples and Kevin clarifies that they can't eat it. Mark says if you do eat it, you won't die, but as soon as you put it in your mouth, you won't want to. The Sharks play with their slimes as Mark asks Mark how many slimes he has: over 100. Mark is currently making his slime out of his garage. His mom helps a lot packing orders. He hired 11 of his high school friends to help packing orders too. Lori holds up a small bottle of liquid and asks what it is. Mark says it's his activator if your slime gets sticky. Each jar costs $2-4$ to make and sells for $10-$16 plus shipping.
Mark just graduated high school and he's going to UCLA in the fall of 2022. He doesn't think going to college will affect his business because he'll be moving into a warehouse. Kevin has slime all over his hands, it's too sticky and it need the activator. Mark has over 900,000 Tik Tok followers. When he announces a drop on Tik Tok, he tries to keep as many in stock for the future. Each week, he come up with 3-5 new slimes. Shipping for 1 slime is $5-$6. Lifetime sales are $1.2 million. In 2020, he did $50,000 in sales with $13,000 in profits. In 2021, he did $580,000 in sales with $300,000 in profits. So far in 2022, he has $540,000 in sales and $300,000 in profits. He knows his numbers are right because his mother is a CPA.
Daniel thinks he's doing a great job but slime is not his space, he's out. Kevin thinks the product is nuts and asks if Mark will make "Wonder Slime." He offers $150,000 for 30%. Lori thinks the slime is cute, but she doesn't want to be in the slime business, she's out. Mark thinks it's a great business but it's a mistake to take an investment, he's out. Daymond says he doesn't need an investor and that he should go to school, but he offers $150,000 for 25%. Mark thanks the Sharks for their offers and counters with a higher dollar amount. He asks for $300,000 for 25%. Kevin and Daymond decline. Kevin says he brings value and Mark counters with $200,000 for 20%. Daymond won't go off $150,000. Mark counters with $150,000 for 20%. Daymond and Kevin accept and Mark chooses to do a deal with Daymond.
Sliimey Honey Shark Tank Update
The Shark Tank Blog constantly provides updates and follow-ups about entrepreneurs who have appeared on the Shark Tank TV show. On show night, Daymond Tweeted:
"At 17 years old in his moms garage, Mark Lin SOLD me! Are you ready for The Chocolate Thunder
@SliimeyHoney
? Use the Code SHARK15 for 15% off Sliimey Honey products!!!"
In the week following the original air date, Mark sold out of all his products. The first rerun of this episode in February, 2023, occurs less than 2 months after the original air date and it is unclear whether the deal with Daymond closed. One indicator that it did is Mark is actively looking for warehouse space so he can get out of the garage. He's also in negotiations with Wal Mart and Target. He moved operations to a 3000 square foot warehouse in the spring of 2023 and runs the business remotely from the UCLA campus.
The Shark Tank Blog will follow-up on Sliimey Honey & Mark Lin as more details become available.