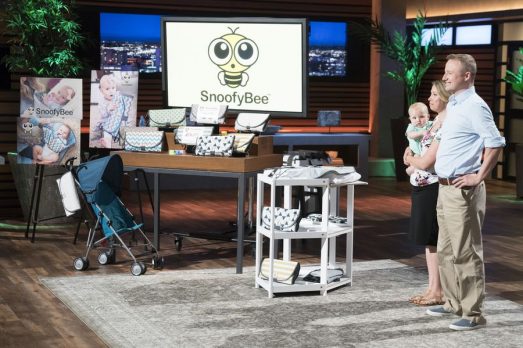 Amy and Michael Perry hope the Sharks like SnoofyBee, their "clean hands changing pad," in Shark Tank episode 905. As parents of five, they've changed A LOT of diapers. With their first two sons, they found the babies frequently got their hands in the mess while changing. After wrestling with their first two kids during diaper changes, they created a solution "with the help of Grandma's sewing skills." That solution was SnoofyBee.
They got things going back in 2015 with a Kickstarter campaign that raised $120,766.  The SnoofyBee is a polyurethane coated changing pad that's compact and portable. It wraps around the baby, keeping the hands from getting in the nether regions while mom or dad changes the diaper. If you ever saw a dog with a cone around its head, that's the basic idea. The bottom half of baby is easily accessible for changing.
A Snoofy Bee costs $29.99 and an optional carrying bag is $8.99. The products sell on Amazon and the company website. While it isn't in stores at the time of airing, they are accepting wholesale inquiries.  The couple likely wants a Shark's help getting into mass retail. Will a Shark want to help change this company's fortunes?
SnoofyBee Company Information
Video

Posts about SnoofyBee on Shark Tank Blog
Snoofy Bee Clean Hands Changing Pad
SnoofyBee Shark Tank Recap
Amy and Michael enter the Shark Tank with their 10 month old son, Emmett, seeking $85,000 for 10% of their business. They tell their story and give their pitch, then hand out their samples. Robert takes Emmett and passes her to Lori. Michael takes Emmett and gives her to grandma who takes him backstage, then the questions come.
They have a utility patent on the "redirection barrier." For the Kickstarter orders, they ordered 10,000 units and 3000 units were faulty. Michael had to leave his job to fix them. 2015 sales were $140,000, in 2016 they were $400,000 and they are projecting $650,000 for 2017. They cost $6 to make one unit and they sell for $29.99. Marketing costs are 40% of revenue and they pay themselves $4000 a month to pay their bills.
Mark doesn't like the marketing costs and feels lowering them is too big of a challenge; he's out. Bethenny thinks people will only buy it once; she's out. Kevin calls it a product, not a business, but he offers $85,000 for 20% of the business – with contingencies. He will do the deal if  their patent is granted and if they agree to license it. Robert offers $125,000 for 15% and he wants them to invest in creating new products. Lori offers $100,000 for 20% and puts the hard sell on Michael and Amy. They counter with $120,000 for 20% and Lori agrees.
SnoofyBee Shark Tank Update
The Shark Tank Blog constantly provides updates and follow-ups about entrepreneurs who have appeared on the Shark Tank TV show. The deal with Lori never closed. Since airing, they came out with some new products: Chewy Buckle Teethers, Earth Friendly Diaper Baggy Dispenser and bowls that have suction cups on the bottom so they can't get pushed off the table.
In 2019, they did a Kickstarter for The Snug n Go Baby Carrier that they cancelled. They announced the reasons they cancelled in the update section of the campaign:
We are perfecting samples right now but in order to thoroughly test out the new prototypes we will not be able to meet our March delivery timeline. Instead of taking backer money and not delivering on time, we are closing out this campaign so that nobody will be charged.  We will keep you all updated on our progress and we will launch the Snug 'n Go carrier this spring giving our backers the same discount (or better if we can improve production costs) as they would have received here.
That was pretty ethical of them, considering how many Kickstarters take people's money and under deliver. As of February, 2022, they have not done another Kickstarter, but they are still in business. Also in February, 2022, they announced they'll be launching a One-Handed Diaper Bag "soon." In August, 2022, they still haven't released the new bag. Annual revenue is $1 million.