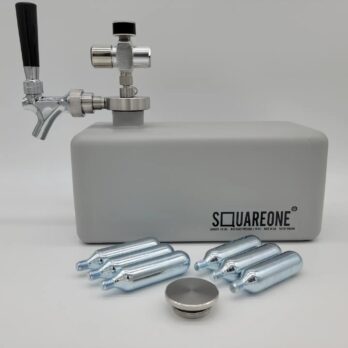 Tim Louks hopes the Sharks like SquareOne, his square kegs that allow people to enjoy the convenience of  a keg tap right from their own refrigerator, in Shark Tank episode 1408. Louks' keg isn't just for beer either, you can put wine, kombucha, cold brew, cocktails or pretty much any beverage in it. Simply pour in your beverage, attach the tubing to the regulator, screw in the spout and pressurize it with CO2 (cartridges come with it and can be re-ordered from Tim's website). It's simple and its size and shape make it easy to transport or store in the fridge.
Tim literally came up with the idea for SquareOne in the middle of the night. He was growing frustrated with his career in medical device sales and wanted to do something on his own. When he came up with the idea in 2017, he dove in head first. He didn't know anything about manufacturing, so he learned as he went along. In September, 2020, he had an unsuccessful Kickstarter campaign that raised around $60,000 on a $150,000 goal, but he still managed to get his product made.
The SquareOne mini kegs cost $249. The "Nitro" edition costs $399 and refill cartridges cost $24 for a 12 pack and $199 for a 100 pack. Each keg holds 128 ounces – about a twelve pack. You can fill them with beer anywhere craft breweries sell "growlers" to the public. As for other drinks, you can mix big batches of cocktails or whatever you want from a tap. He makes everything in the greater Spokane area using regionally sourced, American made components. You can even get them with custom logos for an extra charge. Tim likely wants a Shark's help scaling to the next level.
Company Information
Video

Posts about SquareOne on Shark Tank Blog
SquareOne Shark Tank Recap
Tim enters the Shark Tank seeking $300,000 for 10% equity in his company. He says drinks on tap are more popular than ever and they love the at home draft experience. The problem is, most draft systems are big, expensive and not portable. Tim has a typical round keg in his hands and says there's no way he can bring it on a boat, golf cart and he can't fit it in the fridge. He pulls a Square Keg out of the fridge and shows it to the Sharks. He says SquareOne lets people put more volume into less space and that you can bring it just about anywhere.
The Sharks unveil their samples of their kegs that are on their tables. They have drinks inside their kegs and Tim tells them to pour a drink and "let's get down to business." The Sharks ooh and ah over their samples. Peter, Mark and Daymond have beer in theirs, Kevin has a vodka espresso nitro martini and Lori has a "John Daley" which is and "Arnold Parmer" with vodka. The Sharks do a toast to "LE Chevaliers du Testavin!" The Sharks like their drinks.
Kevin notes his keg has the nitrogen cartridge which was a new development when the segment taped. Daymond wants to know the value of putting mixed drinks in the kegs. Tim says it lets you make big batches of drinks for on the go. When Lori asks if you can put wine in it, Tim says he has a product in development that will use Argon gas. Tim explains how to disassemble it and how to depressurize it. Mark screws up and gets splashed with beer as the other Sharks laugh.
Who's In?
Peter asks about sales and Tim says he's sold over 4000 units. Lifetime sales (a little over a year) are over $1.4 million. The company lost $250,000 last year and he's on track to make a 15% net. He's on track to do over $200,000 in sales this month (July, 2022). They cost $130 to make and sell for $259. They opened their own manufacturing facility in Washington state so they could refine their processes and get the cost down. While the SquareOne is direct to consumer, Tim is also looking to develop the commercial market.
Tim tells how he got inspired back in 2017. Daymond wants to know often he wakes up at 2:30 in the mornig to figure out more efficient ways to get hammered; he thinks it's cool, but he doesn't see the value – he's out. Kevin asks if he could put three bottles of chardonnay in it (when the wine version comes to market) and if it would keep the wine fresh. When Tim says yes, Kevin says "that is a bleeping cool idea." Lori thinks it's cool, but since he doesn't have the wine version, she's out. Peter doesn't see where he could add value, he's out. Mark doesn't think it's right for him, he's out.
Kevin says he's intrigued. He wants to know when the wine product is coming and Tim says less than three months. Lori asks why he didn't tell her that. Kevin says the wine industry has been looking for something like this for 20 years. He offers $300,000 for 20% and says Tim needs someone who can blow it up online. Tim says Mr. Wonderful is great in this space and counters with 15%. Kevin says no because it'll be a lot of work. After thinking for a few seconds, Tim says "let's do it."
SquareOne Shark Tank Update
The Shark Tank Blog constantly provides updates and follow-ups about entrepreneurs who have appeared on the Shark Tank TV show. While there is no hard evidence the deal with Mr. Wonderful closed, Kevin says he used the product all summer and he loves it. Evidently, the deal finally closed. Kevin is featured as "Chef Wonderful" on the company's home page.
In the months since airing, the company introduced Vino On Tap, their square wine storage container that holds up to 5 bottles of wine. This is the product that piqued Kevin's interest in the company. As of October, 2023 – around a year after the original air date – the company did over $1 million in sales. Tim still works at his full time sales job at this time.
The Shark Tank Blog will follow-up on SquareOne & Tim Louks as more details become available.