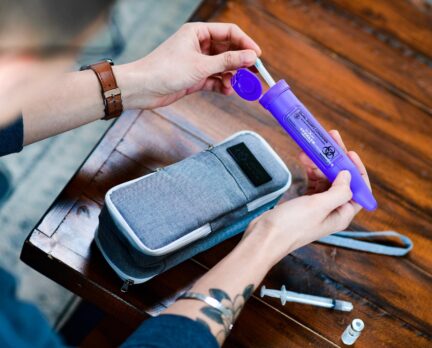 Braxton Fleming seeks a Shark investment for Stealth Bros and Company, his company that makes luxurious dopp kits for people with the need to carry medical supplies such as injection needles. He'll pitch his business in Shark Tank episode 1402. He started the business in his basement to provide a solution to a problem he had. Braxton is a trans gender male who needs to have weekly hormone injections, often while away from home. Apparently, the injections are working as he's married and a father of three.
The dopp kits provide a discreet way for people to travel with their medical necessities and helps provide safe storage and disposal of used needles. Diabetics can also benefit from these products as they frequently need insulin injections. He also sells sharps disposal vessels to dispose of used needles safely. The smaller sharps disposal "shuttles" fit into the Stealth Bros dopp kits. The sharps disposal vessels can also be used for commercial use by barbers, tattoo artists etc.
The flagship products are the dopp kits. They're made out of leather and they come in a variety of vibrant colors and patterns. They come in two sizes. The Original dopps are $32 each and the Junior dopps are $34. The kits are designed to safely and stylishly transport medical supplies, no matter what the medical need is. Braxton's a budding philanthropist, too. He's established a fund that will give $500 to two individuals to help them achieve gender affirming goals. He's likely in the Tank to get Stealth Bros to the next level. Will a Shark like these kits?
Company Information
Video

Posts about Stealth Bros on Shark Tank Blog
Stealth Bros Shark Tank Recap
Braxton will pitch the panel of five Sharks on the business and its prospects for growth. He'll need to convince Mark Cuban, Kevin O'Leary, Lori Greiner, Barbara Corcoran and Robert Herjavec that the company is worthy of a Shark investment. A good business plan, good financials, and sales data will impress the Sharks, but he'll need to show them HE is capable of running the company to "Shark standards." A full pitch re-cap on Stealth Bros will be available on Shark Tank Blog once this episode airs.
Stealth Bros Shark Tank Update
The Shark Tank Blog constantly provides updates and follow-ups about entrepreneurs who have appeared on the Shark Tank TV show. Once an episode has aired, we monitor the progress of the businesses featured, whether they receive funding or not and report on their progress. The Shark Tank Blog will follow-up on Stealth Bros & Braxton Fleming as more details become available.