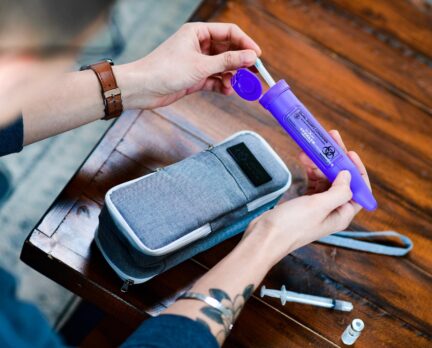 Braxton Fleming seeks a Shark investment for Stealth Bros and Company, his company that makes luxurious dopp kits for people with the need to carry medical supplies such as injection needles. He'll pitch his business in Shark Tank episode 1402. He started the business in his basement to provide a solution to a problem he had. Braxton is a trans gender male who needs to have weekly hormone injections, often while away from home. Apparently, the injections are working as he's married and a father of three.
The dopp kits provide a discreet way for people to travel with their medical necessities and helps provide safe storage and disposal of used needles. Diabetics can also benefit from these products as they frequently need insulin injections. He also sells sharps disposal vessels to dispose of used needles safely. The smaller sharps disposal "shuttles" fit into the Stealth Bros dopp kits. The sharps disposal vessels can also be used for commercial use by barbers, tattoo artists etc.
The flagship products are the dopp kits. They're made out of leather and they come in a variety of vibrant colors and patterns. They come in two sizes. The Original dopps are $32 each and the Junior dopps are $34. The kits are designed to safely and stylishly transport medical supplies, no matter what the medical need is. Braxton's a budding philanthropist, too. He's established a fund that will give $500 to two individuals to help them achieve gender affirming goals. He's likely in the Tank to get Stealth Bros to the next level. Will a Shark like these kits?
Company Information
Video

Posts about Stealth Bros on Shark Tank Blog
Stealth Bros Shark Tank Recap
Braxton enters the Shark Tank seeking $200,000 for 15% of his company. He says 6 years ago, he realized he was trans gender. That realization led to a lifetime of hormone therapy. He wanted a neat, safe, discreet and stylish way to store his medicines. There are other under represented medical communities that need this product. Diabetics, people going through infertility treatment, children with injectable needs and others need this product.
The Sharks examine their samples. They have the junior dopp kit and the Stealth Sharps Shuttle. He tells the Sharks sharps are used needles. The Sharps Shuttles come in bundles and a large retailer has just made a big purchase order of them. Mark asks if there are other medical dopp kits on the market and Braxton says yes; he's just made them more fashionable.
Braxton is a nurse and he found it daunting to take injections. People in the community felt anxiety over injections. He sells through eCommerce organically. Year to date (2022) sales are $110,000. Last year (2021) he did $147,000; he's up 40% year to date over the previous year. The junior dopp kit costs $5.86 and sells for $34. 10,000 pieces of the Sharps Shuttles costs 28 cents and they sell for $15; wholesale is $7.50.
His Story
His parents are entrepreneurs and always let him live his own life. At age 27, he realized he was trans gender. While watching other trans men taking injections on YouTube, he realized there was a need for his products. As a nurse, he saw unsafe and unsanitary practices too. He wanted to give back to the community by creating the brand. He works out of his basement while still practicing as a nurse. Mark asks about the company name and Braxton say he called it stealth to be stealthy. Bros is for the trans male community and the "and co" stands for "and communities we serve." Mark says he should put a video of him saying that on his website.
Lori thinks he doesn't need a partner, she's out. Robert says Braxton exudes warmth, but it's too small of a business at this time, he's out. Barbara says she took fertility injections to have her first child. She used books with pages cut out to store her needles. Barbara thinks his business comes from a place of love and she thinks what he's doing is terrific.
After a commercial break, she offers $100,000 cash and $100,000 credit line for 20%. Mark offers to go in with Barbara. Kevin goes out. Mark says he needs to scale and it will be a lot of work. He splits Barbara's offer. Braxton counters with 18% and they say no. Braxton takes Barbara and Mark's deal.
Stealth Bros Shark Tank Update
The Shark Tank Blog constantly provides updates and follow-ups about entrepreneurs who have appeared on the Shark Tank TV show. In the week following the original air date, Braxton sold out of many kits. The website says he's restocking on October 13, 2022. On October 3, 2022, Braxton announced that his Stealth Sharps Shuttles are in 3000 CVS stores nationwide. While there is no evidence the deal with Mark and Barbara closed yet, on show night, Barbara tweeted:
Welcome to the family
@StealthBrosCo
! #SharkTank
@ABCSharkTank
The first rerun of this episode in July, 2023 is nearly 10 months after the original air date. At this time, the deal with Mark and Barbara has not closed. The Shuttles are still available at CVS.
The Shark Tank Blog will follow-up on Stealth Bros & Braxton Fleming as more details become available.