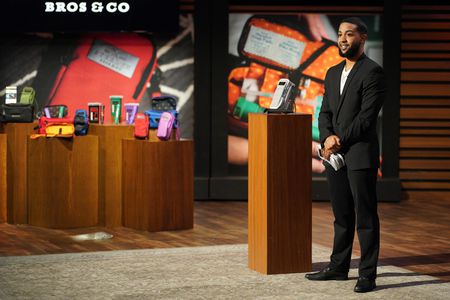 Braxton Fleming created the Stealth Bros Company because he has to take regular hormone injections for transitioning to a male. Braxton often has to take his injections when he's away from home. The hormone therapy must be working because Braxton is pretty jacked. Diabetics often need to take injections too and they are another group that can benefit from Braxton's products.
Braxton makes super fancy medical kits for people who need to take regular injections, whatever the reason. They're kind of like a dopp kit, but for medical supplies. There's a spot for needles, vials of medicine, sharps disposal and more. The stuff is all packed into a stylish leather case that comes in a variety of colors and patterns. The concept is to give users of regular injections a discreet, safe and fashionable vessel for their medical supplies.
He started making his products in his parents' basement. Now he does it in his own basement. While reliable revenue figures are unavailable, he must have some sales. His "sharps shuttles," small containers for used needles, are for sale at CVS. All his products can be found on his website and on Amazon. While the market is limited for this type of product, there are still millions of people who need it. Will the Sharks buy in or think it's "too niche?"
My Take on Stealth Bros Company
While I mean no disrespect to Braxton or his products, the first thing I thought of when I learned about these products was a scene from Pulp Fiction. It's the scene where he shoots heroin at his dealer's house. Travolta pulls out a stylish kit with a syringe and needles and all the associated gear for shooting heroin. I'm sure Braxton doesn't want to reach the heroin addict market, I fear there may be some who buy this product.
The utility of the product and the markets it seeks to serve are real. The products appear to be well made and they look very nice. I have a fancy shmancy leather dopp kit for toiletries when I travel, so I get the style angle too. It's not anything I'd buy, unless I develop diabetes in my old age, but I can see the market he seeks to serve buying these.
Do Sharks Take a Shot?
I don't think Braxton gets a deal here. The Sharks will be sensitive to his choices, but ultimately, I think they'll all think it's "too niche."