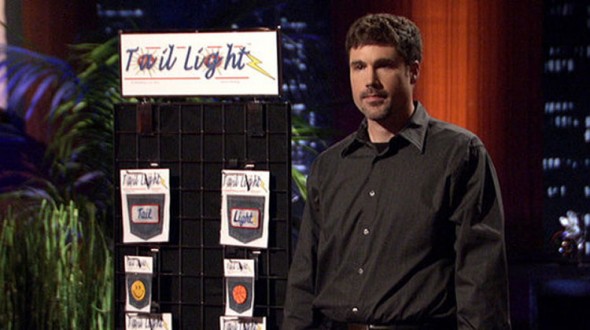 Kyle Rainey, from Baton Rouge, Louisiana, comes to episode 303  of the Shark Tank accompanied by his daughter and niece, who are modeling his Tail Lightz product. Tail Lightz are light-up stickers that you'd place on rear jeans pockets. Rainey is an inventor with over 80 creations to his name, but no business experience. He hopes to find an investor and partner who can take his idea and make it into a successful business.
Unlike other entrepreneurs who've come into the Tank, Rainey isn't coming to the Sharks with a full-fledged company. He e-mailed the producers about his idea and, upon their invitation to the Tank, he had about a month to prepare his presentation, and to produce prototypes. A stay-at-home Dad, Rainey rose to the challenge, putting together samples of his design. Will his Tail Lightz light up the Sharks' eyes, or will they leave Rainey in the dark?
Tail Lightz Shark Tank Recap
Rainey is seeking $50,000 in return for 50% of his company. He has his daughters come in to show off the Tail Lightz. He claims there are no products like his on the market for customers who enjoy "bringing attention to their greatest assets." The girls put on a brief dance show, demonstrating how the Tail Lightz light up in response to motion.
Rainey presents samples of his prototypes, asking "Who's ready to go in with an experienced inventor to light things up?"
Barbara Corcoran responds. "Who's ready? I'm ready. To go out." She tells Rainey that his product would be "uncomfortable" to wear, that the devices wouldn't survive being put through the laundry, and that the designs he's presented are "dated."
Mark Cuban asks one of the models whether she'd go on a date wearing the Tail Lightz. The girl hesitates, and Cuban pounces. "You have your core audience right here. You think this is going to take off, but I just don't see it."
Kevin O'Leary says there's "nothing proprietary" about the idea. He's out. Robert Herjavec agrees with Corcoran, calling the designs "dated," and declines to offer a deal. Daymond John says he's "seen 10 of these in the last year." John is out.
Mark Cuban is the final Shark. He tells Rainey that "It doesn't matter how many times you fail. All it takes is one, and people will call you an overnight success," but he doesn't think this product is the one for Rainey. He's out.
Rainey leaves the Shark Tank with no deal.
Tail Lightz Shark Tank Update
In spite of Rainey's setback in the Shark Tank, he remained determined to bring his product to the market. He continues to create designs in his spare time, in hopes of hitting upon an idea that will lead him to the success he craves. He rebranded his Tail Lightz to "Blinkerz," perhaps a more appropriate name, but has not yet been successful at taking them to market.
As Cuban suggested, not giving up might be the key to success. The Sharks didn't see the potential in Tail Lightz, but they seemed to agree that Rainey should continue to pursue his dreams, in hopes of finding the one idea that will take off for him. The business shut down some time in 2015 but Rainey continues to run RainCo Products working as a consultant to inventors.
Posts about Tail Lightz on Shark Tank Blog
Tail Lightz Kyle Rainey after Shark tank
Company Information