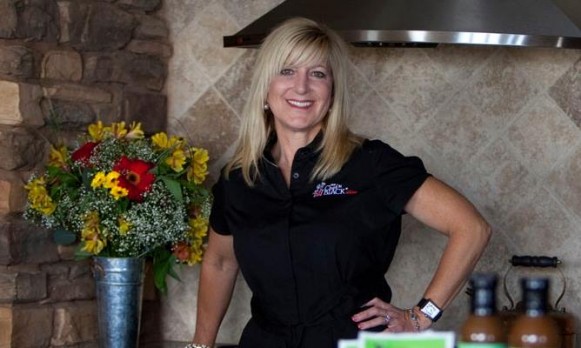 Dorene Humason, aka The Chef in Black, pitches her line of Jaden Chinese Salad Dressing and Seasoning mix.
in episode 112. The salad dressing is all natural and gluten-free. Dorene's a food industry veteran with over 20 years in the business as both a buyer and a sales rep. She started making salad dressing spice mixes in her kitchen and realized there was nothing like it on the market, so she began selling it! The spices can be used as a stir fry seasoning and a marinade, too.
The Chef in Black dressing mix is in over 1200 stores and Dorene is looking for a Shark's help with expanding distribution and starting a line of bottled salad dressing.
The Chef in Black Shark Tank Recap
Dorene and her daughter, Brooke, entered the Tank together. They're looking for $50k for 10% of The Chef in Black. Dorene explained the business as Brooke handed out salads with the Jaden Chinese Dressing on them to each Shark. Dorene is very prepared and answers every question the Sharks throw at her. She reveals a story about a packaging snafu: the image she was using on her packets was not Chinese – it was a Japanese prostitute! Since she didn't want to offend people, she was forced to pull all her product from store shelves. That cost her a bundle!
The Sharks like the Chef in Black dressing, but they're not sure about the business. Robert thinks the food business is too risky, he's out. Daymond echoes Robert's sentiments and goes out too. Kevin H. thinks Dorene's marketing message is too confused – he's out. Mr. Wonderful likes the dressing, but not the business, so he goes out. That leaves Barbara.
Barbara likes the dressing and Dorene. She offers $50K for 40% of the business if Dorene scraps her plans to sell bottled dressing right away. Barbara wants her to concentrate on getting the mix in stores nationwide. Dorene counters with $50K for 35% and they have a deal!
The Chef in Black  Shark Tank Update
The deal with Barbara never got completed as Dorene still wanted to move forward with bottled dressings. The two parted amicably and Doreen went about building her business. She changed the name from Jaden Chinese Salad Dressing to The Chef in Black California Asian Fusion Dressing to keep the branding consistent. There are no more prostitutes on the packaging!
The Chef in Black has its bottled dressing and dry mix packets in over 2000 stores nationwide and recently completed a deal to get on the shelves at WalMart.
This company is out of business as of September, 2016.
Posts About The Chef in Black on Shark Tank Blog
Company Information