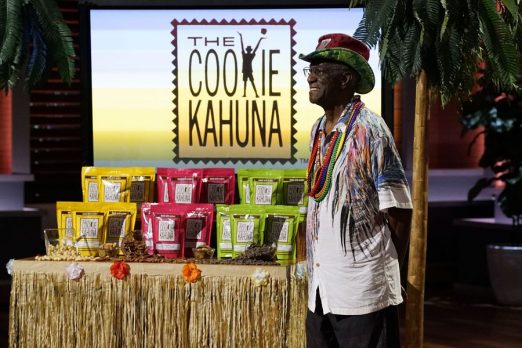 Wally Amos, aka "Famous Amos," pitches his new cookie company – The Cookie Kahuna – in Shark Tank episode 804. He's been developing the business since 2012 which uses his original recipes from the 1970's. He plans on selling hand-baked, small batches of cookies online from his Honolulu based bakery.
Nearly everyone of a certain age remembers Famous Amos cookies. Mr. Amos started that business as a small shop on Sunset Boulevard in Hollywood, California with a $25,000 investment from entertainers Marvin Gaye and Helen Reddy. In his second year, he did over $1 million in sales and by year 7, he did $12 million. In 1982 he branched out to sell his products in supermarkets. By 1988, he was bleeding money – he lost $2.5 million and an investor bought him out for $3 million. After several acquisitions over the years, the Famous Amos brand is still in existence; it's now owned by the Kellogg Corporation.
Amos blames the downfall of Famous Amos to poor decision-making on his part, but he never lost the hunger for making a good cookie. In the 1990's he started another cookie company, but got sued out of business by the owners of Famous Amos. He also owns Uncle Wally's Muffins, which are sold in over 10,000 retail outlets all over the USA.
Amos' first love is still cookies and he's serious about building the Cookie Kahuna brand. He's using all his original recipes from the 1970's and making them fresh to order.
Amos likely wants a Shark's help growing his baking capabilities. Will a Shark cook up a deal with this famous Kahuna?
The Cookie Kahuna Shark Tank Recap
Wally enters the Tank seeking $50,000 for 20% of his company. As he hands out cookies and milk, the Sharks are almost in awe. He shares his story and how he came to create his new company. The Sharks are concerned with his numbers. He's operating on 20% margins and sales are only $36,215.97 to date. He sells online and in a Costco in Hawaii.
Because Wally can't leverage his fame, he has to build a brand all over again. Kevin doesn't like that idea and he's the first Shark to go out. Lori thinks Wally doesn't understand that something's not working; she's out. Robert goes out next, citing the margins and limited distribution. Barbara is next out because Wally can't leverage his name. Mark is the last Shark out. He wants to invest, but he owns a cookie business and it would be a conflict of interest.
The Cookie Kahuna Shark Tank Update
The Shark Tank Blog constantly provides updates and follow-ups about entrepreneurs who have appeared on the Shark Tank TV show.  Amos closed Cookie Kahuna in 2018. He then tried starting another brand called Aunt Della's Cookies in 2019. That project went nowhere when they failed to raise money on IndieGoGo. The website is gone, social media hasn't been updated since 2018. As of June, 2022, Wally has been laying low. He's baked his last cookies.
Posts About The Cookie Kahuna on Shark Tank Blog
The Cookie Kahuna Company Information
Video