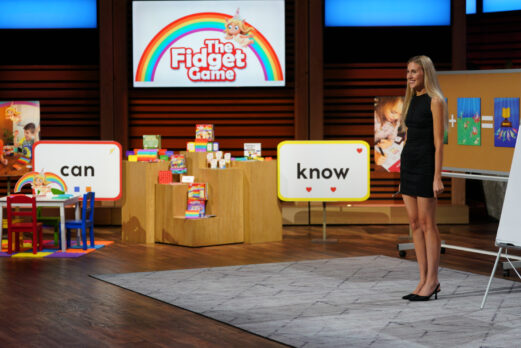 Brandi Dugal hoppes a Shark can read into a deal for The Fidget Game, her games that teach kids how to read quickly, in Shark  Tank episode 1504. Brandi knows a thing or two about teaching. She taught in Canada, Thailand, Vietnam, Indonesia, Bahrain, and the United States. She has a Masters Degree in Education and is a certified Reading Specialist K-6 and ESL Specialist. There was a common theme in each locale she taught in: parents had difficulty teaching their kids to read at home.
The Fidget Game is a series of games that use game-based, multisensory learning and follows the Science of Reading. Basically, Brandi has taken proven reading strategies and made them into a game. Kids can be up to grade level with her games in just a few weeks. It's such a good system, The Fidget Game is used in over 40,000 schools internationally.
There are several different games in the collection. There's a sight words game and Word Pop. Word Pop helps kids learn letter sound blending, master 50 common words, read simple sentences and gets them ready to learn multisyllabic words and sight words. There are also several series of flash cards, Word Bingo and more. Each game costs $29.95. There are games for pre-K kids all the way up to 4th grade. Kids using the program can get to grade level reading in as little as 2 weeks. Brandi likely wants a Shark's help scaling up to the next level.
Company Information
Video

Posts about The Fidget Game on Shark Tank Blog
Fidget Games: Making Learning Accessible and Fun
The Fidget Game Shark Tank Recap
Brandi will pitch the panel of five Sharks on the business and its prospects for growth. She'll need to convince Mark Cuban, Kevin O'Leary, Lori Greiner, Daymond John and Barbara Corcoran that the company is worthy of a Shark investment. A good business plan, good financials, and sales data will impress the Sharks, but she'll need to show them SHE is capable of running the company to "Shark standards." A full pitch re-cap on The Fidget Game will be available on Shark Tank Blog once this episode airs.
The Fidget Game Shark Tank Update
The Shark Tank Blog constantly provides updates and follow-ups about entrepreneurs who have appeared on the Shark Tank TV show. Once an episode has aired, we monitor the progress of the businesses featured, whether they receive funding or not and report on their progress. The Shark Tank Blog will follow-up on The Fidget Game & Brandi Dugal as more details become available.