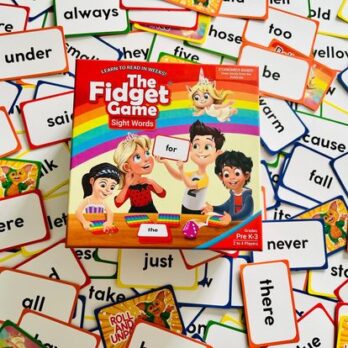 In a world where educational resources are not always readily available to every child,   Fidget Games, founded by Brandi Dugal, stands as a beacon of hope. This innovative initiative believes that every child should have equal access to educational tools, and they are making it happen through their Fidget Forward program. The Fidget Game is a shining example of how education can be transformed into an engaging and accessible experience for all.
The core belief of The Fidget Game is that education is a fundamental human right, and their mission is to ensure that literacy and math skills are accessible to all, regardless of their background or circumstances. To achieve this noble goal, they employ a multi-sensory and game-based approach to learning, recognizing that these methods are proven to increase knowledge and understanding in children by a staggering 25%.
Brandi Dugal's journey to creating Fidget Games was influenced by her vast teaching experience around the world. From Canada to rural Thailand, Vietnam, Indonesia, Bahrain, and the United States, she encountered a common theme every year – parents struggling to teach their children how to read at home. This issue became even more pressing during the pandemic, as parents grappled with the added stress of their children falling behind.
Let's Learn to Read
In response to this educational crisis, Brandi Dugal developed Fidget Games, tools specifically designed to help parents teach their kids to read at home. The results were astounding. During the standardized assessments at the end of the school year, students who used The Fidget Game showed an average improvement of two grade levels in reading, despite spending only five months of the entire year attending school in person. Fidget Games reading program, deeply rooted in game-based and multisensory learning, followed the Science of Reading, a well-established and effective teaching method.
Brandi Dugal's extensive educational background and qualifications played a pivotal role in the development of Fidget Games. With a Bachelor of Environmental Studies and a Master of Education, both with honors, from respected Canadian universities, Dugal also holds additional qualifications such as Reading Specialist K-6 and ESL Specialist from Queen's University. She further deepened her expertise with certifications in the Science of Teaching Reading from both Queen's University and Texas Educator Certificate. Her commitment to social-emotional learning, exemplified by her Social-Emotional Learning Specialist qualification, further illustrates her dedication to holistic education.
Fidget Games: The Impact
Fidget Games have come a long way since its inception. With a presence in over 40,000 schools and a growing international reach, it is clear that the impact of The Fidget Game is profound. By creating research-backed and curriculum-aligned educational games, the initiative has managed to make learning stress-free at home and in the classroom, empowering children and parents alike.
Fidget Games is not merely an educational tool; it is a symbol of hope and progress. It exemplifies the power of innovation, compassion, and dedication in addressing the pressing challenges of our time. As we look towards the future, let us celebrate The Fidget Game for its role in nourishing the spark of learning in our children, and let us strive to ensure that every child has an equal chance to shine.
My Take on Fidget Games
I am a licensed teacher and I know the value of reading. I read to my kids from a very young age and helped them sound out words and recognize sight words. We also had the Reader Rabbit computer programs which were very helpful. Reader Rabbit, coincidentally, was a Learning Company product. That's the company Kevin O'Leary sold to Mattel for $4.2 billion in 1999. Fidget Games looks like a solid program to teach kids to read. I'm in.
Will Sharks be Game?
Kevin, with his Learning Company background, will likely have some interest in this. I'd expect an offer from him. As for the other Sharks, any one of them could make offers if the numbers are good. The only Shark without kids is Lori, but she recognizes a good thing when she sees it. This one could actually result in a Shark fight.