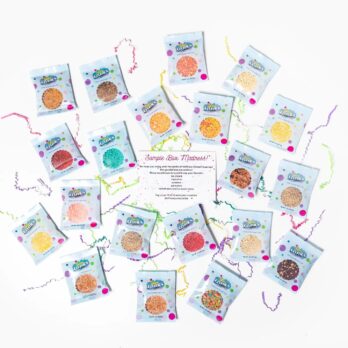 YumCrumbs creator Delson Jeanvilma knows indulging in a delicious dessert is a universal pleasure, a source of comfort, and a sweet treat that brings people together. From delectable cakes to warm cookies, desserts have the magical power to create lasting memories. For those who believe in enhancing the joy of dessert-making and consumption, YumCrumbs is the delightful secret ingredient you've been missing. Founded by Delson Jeanvilma, YumCrumbs is a playful, innovative, and irresistible dessert topping company that has been the go-to solution for bakers, moms on a mission, and dessert-lovers everywhere since 2020.
A World of Flavor and Texture
YumCrumbs offers a wide array of crumb and candy dessert toppings that are sure to elevate both the taste and texture of your favorite treats. Whether you're looking to add a touch of decor or a hint of complementary flavors, YumCrumbs satisfies your crumb-filled needs any day. The convenience it provides is undeniable; you can save time by using their crumb cakes or topping off your favorite desserts with any of their flavor combinations. Every Yum Crumb is high-quality, simple to use, and quick to order. In fact, these products have been tested and approved by the FDA for a one-year shelf life, or six months once opened, but most customers find themselves going through them in under a month because they're simply that good!
The YumCrumbs Story
The journey of YumCrumbs began with a stack of orders for custom crumb cakes and a shortage of time to fulfill them. Even with more than a decade of baking experience, the process of making crumbs proved to be time-consuming. To address this challenge, Delson Jeanvilma reached out to high-demand bakers who were thrilled at the prospect of never having to make crumbs again. With a commitment to preserving the authentic taste of their ingredients, even while streamlining the process and making it affordable, YumCrumbs was born. This involved extensive research, rounds of testing, and ensuring compliance with FDA regulations to provide top-notch dessert toppings.
YumCrumbs: A Family and Minority-Owned Business
YumCrumbs proudly stands as a family- and minority-owned and operated company. Their love for baking is evident in the quality and flavor of their products, all of which are proudly made in the USA. Whether you're a professional baker in need of bulk supplies or a family looking to add a sprinkle of magic to your occasional desserts, Yum Crumbs has something for everyone.
A World of Possibilities
In today's ever-evolving culinary landscape, people are becoming more creative with their food, especially desserts. YumCrumbs recognizes this shift and offers a wide variety of flavors and textures that can be added to almost anything. Pancakes, oatmeal, cupcakes, ice cream, and more can be elevated with Yum Crumbs' delightful toppings. With over 20 flavors to explore, the possibilities are truly endless.
A Growing Passion
Since its inception, YumCrumbs has evolved into a full-blown dessert topping company, thanks to the outpouring of love and support from their customers, who they consider family. The company's commitment to delivering quality toppings and excellent customer service remains unwavering as they continuously expand their offerings.
Seasonal Delights and Endless Creativity
YumCrumbs knows how to make holiday desserts sparkle with a line of delicious toppings for all your baking endeavors. Their versatile dessert and candy crumbles add flavor and texture to desserts, snacks, and even dipped fruit. The creations are boundless! From seasonal favorites like pumpkin pie to classics like lemon pound cake, strawberry shortcake, and red velvet crumbles, Yu Crumbs caters to bakers of all skill levels and ages. It's easy to add the perfect finishing touches to your desserts or simply save time on decorating by sprinkling Yum Crumb's delightful flavors on top.
In the world of dessert-making, YumCrumbs has become a cherished companion, elevating desserts one crumb at a time. With their commitment to quality, an array of flavors, and the endless creativity they inspire, YumCrumbs is undoubtedly a game-changer in the world of baking and dessert-lovers everywhere. So, why wait? Explore their full selection of products and start adding a little extra magic to your desserts today. There's so much to love at YumCrumbs, and the sweet journey is just beginning!
My Take on YumCrumbs
I really don't eat cakes or pies – except on Thanksgiving and Christmas. Even when I do, I don't bake them. I'm just not a baker, so I wouldn't use them, but I'd happily supply them to my mother and daughters who whip up the holiday baked goods!
Do Sharks Like Crumbs?
This is a tough one. It's a unique product, so there won't be any competitors, but it's not proprietary either. If Delson has good numbers, he could field an offer or two. Mark and Lori likely won't bid as they go for healthier foods they'd eat themselves. That leaves Daymond, Kevin and Barbara. I expect at least one offer from one of them.