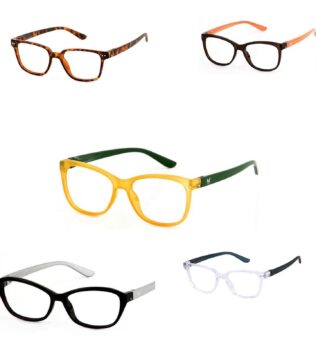 Bunny Eyes proves that in the world of innovation and entrepreneurship, some of the most remarkable and groundbreaking ideas emerge from the simplest of frustrations. Such is the case with this visionary eyewear company founded by sisters Jenny Hutt and Stacy Fritz, along with their friend Andrea Gluck. The name Bunny Eyes pays homage to their late mother, Bunny Koppelman, who not only inspired the company's name but also the revolutionary concept behind their unique reading glasses.
Picture this: Jenny and Stacy found themselves sitting side-by-side, having their hair colored at the salon, and they were utterly frustrated. Why, you might wonder? Because they wanted to wear their reading glasses while flipping through magazines, but the traditional reading glasses they had couldn't accommodate their needs. Dye and hair color were getting all over the frames of their glasses, and it was far from an ideal situation.
Then, just like Tess McGill in the classic movie "Working Girl," where she declared "Trask, radio; Trask, radio," an idea struck them. It was high time for a new kind of reading glasses – glasses that would be wearable while cooking, giving a presentation, sitting at the dinner table, or doing just about anything else, even at the salon. Thus, Bunny Eyes Reading Glasses was born, and it was a game-changer in the eyewear industry.
Making Bunny Eyes
Bunny Eyes' journey was marked by several rounds of prototypes, refining their innovative concept to create the ideal pair of reading glasses for any situation. The true magic of the readers lies in their functionality and unique, patented design, which features the proprietary black diamond hinge technology. This technology enables wearers to put on their readers traditionally or flip the temples for an entirely new and versatile experience. Bunny Eyes are far from your average pair of reading glasses; they are a testament to the power of creative problem-solving.
Available in 10 different shapes for both men and women and offered in a range of colors, Bunny Eyes readers are not just functional; they're also stylish and versatile. They can be worn straight-on, tilted down, or even as opera glasses, ensuring that you can wear them comfortably no matter what you're doing. This innovative approach to eyewear has made Bunny Eyes a hit among individuals from all walks of life, including a fair share of celebrities like Kaley Cuoco, Kristin Bell, Debra Messing, and Hoda Kotb.
What's in a Name?
The significance of the name Bunny Eyes goes beyond mere branding. It's a heartfelt tribute to the sisters' beloved late mother, Bunny, who lost her battle with pancreatic cancer. Bunny was a remarkable woman, known for her loving and caring nature, as well as her extraordinary intelligence. By naming their company after her, Jenny and Stacy keep her memory alive, cherishing the opportunity to hear their mother's name spoken every day. It's a gift that brings them joy and a strong sense of connection.
One of the most striking aspects of Bunny Eyes readers is how they have resonated with their customers. Reviews on platforms like Amazon are overwhelmingly positive. Customers praise the readers not only for their style but for their functionality as well. One customer mentions, "These readers are not only cute and stylish but are functional as well. I wish that my regular prescription glasses were made this way." The unique feature to move one arm out of the way when lying in bed is particularly appreciated. Another satisfied customer says, "I love my Bunny Eyes! My 'over 40' eyes have made readers necessary. I love being able to comfortably read in bed or tilt the glasses down for distance viewing with my own eyes. Wonderful customer service too!"
In Conclusion
The story of Bunny Eyes Reading Glasses is a testament to the power of innovation that can arise from everyday frustrations. Jenny Hutt and Stacy Fritz, inspired by their mother's memory, have revolutionized the way we think about reading glasses, making them not just functional but also stylish and versatile. Their unique, patented design has won over the hearts of many, including celebrities, and their customers rave about the product's quality and functionality. Bunny Eyes is more than just a business; it's a heartfelt tribute to a beloved mother and a symbol of creativity and problem-solving at its best.
My Take on Bunny Eyes
I wear readers. I'm wearing them as I write this post. A few years back, I went to read a medicine bottle and I couldn't make out the small print, so I got some readers at the dollar store. I have one pair of "nice" readers in the kitchen and a half a dozen dollar store readers in our cars and around the house. While these readers look cool, I'm an "if it aint broke don't fix it" type of guy and will likely stay with my current system.
Will Sharks Like These Readers?
The Sharks may like Bunny Eyes, but I don't think there will be any offers. These same five Sharks teamed up and invested in Eyewris last season (season 14), so there is a conflict of interest. If you recall, Eyewris is the reading glasses you can wear on your wrist. While these readers are cool, there won't be offers unless the Eyewris deal fell through.