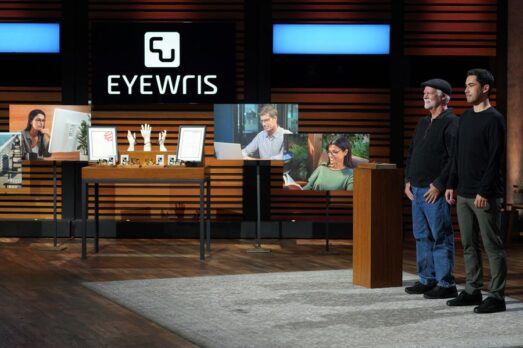 Father and son team Mark and Kenzo Singer pitch Eyewris, their reading glasses you wear on your wrist, in Shark Tank episode 1422 – the season 14 finale. Mark is no stranger to entrepreneurship; he's a woodworker by trade but he's also the inventor of Gorilla Glue. He founded that business in 1994 after seeing polyurethane glue being used to assemble furniture. After getting the USA distribution rights, he marketed and sold the glue primarily to woodworkers at first. He later sold the company to the Lutz Tool Company for an undisclosed amount.
It was while he was building that business when he got the idea for Eyewris. He always found himself needing readers when there were none to be found. His solution was to buys dozens of Dollar Store readers and leave them all over the place. Even with that plan in place, he still found himself needing readers.
He thought having readers you could wear on your wirst – like a watch – would be a good solution. That's whe brought in his son, Kenzo. Kenzo is a structural engineer by profession but he's also an accomplished jewelry designer. He saw what his dad was trying to do with Eyewris and he joined him on the journey. The result was foldable readers that fit around your wrist. They're smudge and scratch resistant and offer 100 percent UV protection. At $110 a pair, they're more expensive than those Dollar Store readers, but they're designed to last so you don't have to keep buying new ones.
Company Information
Video

Posts about Eyewris on Shark Tank Blog
Eyewris Shark Tank Recap
Mark and Kenzo enter the Shark Tank seeking $25,000 for 5% of their company. Kenzo asks "what do sugarless ice cream, low salt turkey bacon and cheese free mac and cheese all have in common?" MArk answers "they were all bought by mistake because I didn't have my reading glasses with me at the supermarket." The Sharks all laugh. Mark says he's wearing his reading glasses right now as he whips his Eyewris readers off his wrist and puts them on. The patented memory metal design lets the glasses spring open and snap shut. They've received 4 international design awards, but more importantly they're fashionable.
The Sharks examine their samples and try the glasses out. They have utility patents in the USA, China and Japan with Europe issuing soon. They cost $30.50 landed and sell for $110 including shipping. Kenzo noticed his dad's dilemna with his readers and used his structural engineering skills to design Eyewris. He applied the same material skills to designing a skyscraper to the glasses and when they had a working prototype, he quit his job.
Barbara asks about Mark's background. He left home at fifteen and a half and barely graduated high school; he never finished college either. He's been a woodworker for 60 years designing and making furniture. He tells how he started Gorilla Glue and sold it years ago. Every company he's sold has included a royalty component.
Kenzo says their website went live last year (2021) and in the first 9 months they have been testing the site and still managed to do $28,000 in sales. Kenzo didn't want to irresponsibly pour his dad's money into marketing in an inefficient way. They've only been spending $45 a day on ads and they're turning a small profit. Mark says he put $630,000 into the business.
Daymond asks why do they need a Shark. Mark gets emotional as he answers. He says time is the most valuable commodity. He chokes up as he says he doesn't have it in him to build another company. His main reason for being in the Tank is to leave Kenzo in the hands of successful, smart, honest and ethical people like the Sharks.
Lori is crying. She says Mark's statement impacted her. She offers $25,000 for 10% and says she's sold millions of dollars worth of sunglasses and readers. Kevin says he knows how to blow this up and offers $50,000 for 10%. Kenzo says they've done the designs and patents and they need the knowhow on how to get it out there. Mark (Cuban) says all the Sharks know this is a great deal and Mark and Kenzo have the leverage. Mark (Singer) says retail, online and licensing the technology are all things they want to do.
Daymond thinks it's a sports play and says he'll double what Lori does if she lets him in the deal; Lori agrees. Kevin asks if Kenzo and Mark had three Sharks, would they give up 10%; Mark says yes. Mark and Barbara say they want in the deal too. Mark (Cuban) says when they do a multi Shark deal, someone does the due diligence, then they figure out which skill sets each Shark can contribute. Kevin asks Mark and Kenzo to step into the hall while the Sharks talk things over. When they come back in from the hall, the Sharks offer $125,000 for 25%, 5% for each Shark. Kenzo counters with 20% and the Sharks do the deal.
Eyewris Shark Tank Update
The Shark Tank Blog constantly provides updates and follow-ups about entrepreneurs who have appeared on the Shark Tank TV show. In the immediate aftermath of the show, the company sold thousands of glasses. Many knock offs appeared on Amazon, too. The first rerun of this episode in July, 2023, is just 3 months after the original air date. There is no evidence of the deal with the 5 Sharks closing at this time. The company is discounting the glasses on their website from $110 to $65 in July, 2023.
The Shark Tank Blog will follow-up on Eyewris & Mark and Kenzo Singer  as more details become available.