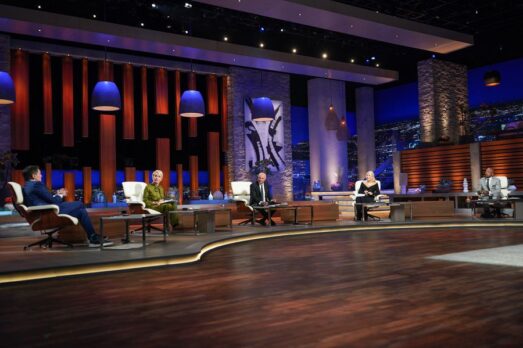 Shark Tank episode 1422 is the season 14 finale. Mark, Barbara, Kevin, Lori and Daymond are on the panel to close out the show's 14th season. Together, they'll evalaute 4 new businesses and decide if they're worthy of an investment. Will any Sharks make offers tonight?
George "Tank" Resch seeks an investor for Influencers in the Wild, his board game that turns players into influencers. Ashley Jones marches into the Tank seeking a deal for Tones of Melanin, her collegiate licensed apparel for Historically Black Colleges and Universities. Brooke Knaus seeks a good fit for Tucky, her elastic belt that makes it easy to get the "tucked in top" look. Father and son team Mark and Kenzo Singer pitch Eyewris, their foldable reading glasses you wear on your wrist. Which business catches a Shark tonight?
Tonight's Update Segment will feature a look back at season 14's success stories.
The Sharks
---
Daymond John
Barbara Corcoran
Entrepreneurs
---
Update Segment – Season 14 Success Stories
There are 26  Shark Tank Episodes for Season 14. This season features the six "regular" Sharks: Mark, Daymond Kevin, Lori, Barbara and Robert. There are two new guest Sharks for season 14: Actress Gwyneth Paltrow and Door Dash founder Tony Xu. Returning "recurring" Sharks are Emma Grede, Peter Jones, Kendra Scott and Daniel Lubetzky. Casting is currently closed, but it never hurts to get a head start on season fourteen! If you would like to appear on the show, check out our Auditions and Casting information.
Episode 1422 – The Shark Investors and Entrepreneurs
The Shark Tank Episode 1418 entrepreneurs will make their best pitch to the panel of five Shark investors who will use their own money if they choose to invest. The Shark Investors negotiate on the spot without any previous information, which differs from typical negotiations between venture capital investors and entrepreneurial start-ups.
Companies pitching the Shark Investors must go through a rigorous due diligence process before an on-air deal is completed. Shark Tank Blog follow ups help you keep track of the companies that end up successful and the ones that don't complete their deal.
Thank you for reading SharkTankBlog, the number one site for Entrepreneurs, Investors and Fans. Our content updates multiple times day, giving you the latest information on Episode 1422, Season 14, and all other seasons and episodes.
Episode 1422 Press Release
Shark Tank: "Episode 1422" (Season Finale)
Entrepreneurs come into the Tank eager to secure a deal with a Shark. Pitches include a social media star's board game, HBCU collegiate fashion designs, a wardrobe accessory and an innovative eyewear design.
First into the Tank is a social media star from New York City who ends up being familiar to the Sharks and pitches a board game focused on social media influencers. Accompanied by a marching band, a Virginia Beach, Virginia, owner of a popular HBCU collegiate apparel line pitches the Sharks to invest in her brand. An entrepreneur from Charlotte, North Carolina, presents an accessory to make one's wardrobe more versatile by transforming T-shirts into crop tops. The Sharks are drawn into an emotional pitch by a father-and-son duo from Santa Barbara, California, who created innovative eyewear to address the problem of easily accessing reading glasses. The season finale features an extensive recap on many success stories from the season, inspiring future entrepreneurs to pursue the American dream. (TV-PG)
The Sharks in this episode are Mark Cuban, Barbara Corcoran, Lori Greiner, Daymond John and Kevin O'Leary.
Watch episodes on demand and on Hulu the day following their premieres.