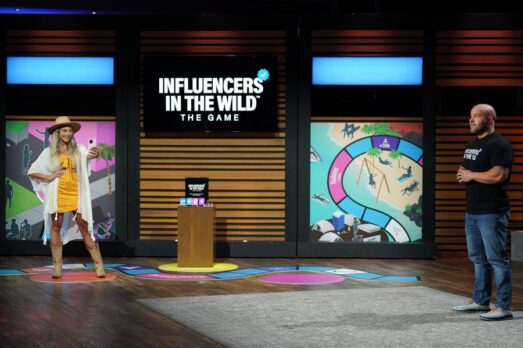 George "Tank" Resch hopes to game a deal for Influencers in the Wild, his board game that makes people "influencers" with big followings, in Shark Tank episode 1422 – the season 14 finale. Resch is a bit of an influencer himself. His Instagram account, Tank.Sinatra, has over 3 million followers. People follow him for his memes. He's said to be the world's most prolific meme creator. One of  his other Instagram pages, also called Influencers in the Wild, has over 4.8 million follwers. That page posts videos of "influencers" doing silly things to get a post to go viral. The former fencing salesman turned influencer now works full time on all his social media accounts on platforms like Instagram, Tik Tok, Twitter and others.
All this influencing got Resch to create the game, influencers in the Wild. Players start with 100,000 followers. They roll the dice and move around the board completing challenges along the way. The player who makes it to "The Big Pink Wall" in LA with the most followers wins.
Along the way you collect challenge cards; complete the challenge and you gain more followers. There are also question cards you ask about the people you're playing right; answer correctly and your following grows. There are bonus cards and penalty cards as well. People are also encouraged to submit videos of them doing tasks while playing the games which could be featured on the Influencers in the Wild social media universe. As of a week before the initial air date, the game is "sold out" on his website but it is available for $19.99 on Amazon. Resch likely wants some Shark cash for inventory.
Company Information
Posts about Influencers in the Wild on Shark Tank Blog
Influencers in the Wild the Game
Influencers in the Wild Shark Tank Recap
Tate enters the Shark Tank seeking $500,000 for 10% of his company. Tank explains what an influencer is to the Sharks with the help of a model snapping a selfie onstage. He took the idea of influencers and internet culture in general and built a board game around it. His game reinvents the classic board game but instead of gaining money, you gain followers. The player with the most followers wins.
Mark recognizes Tank; he follows him. Lori follows Tank's Good News on Instagram – she didn't know it was the same guy! Daymond follows him too. Tank says he's a big Shark Tank fan and Mr. Wonderful says "let's get back to the business." He explains how the game is played; he uses big influencer hot spots as spaces on the board. As you travel around the board, you either gain or lose followers. The fun happens on the blue squares where, if you land on one, you pick a card that gives or takes away followers.
Barbara askes about his background. Tank says he loves comedy, sales, Shark Tank and Jay-Zee. He doesn't want to be at the whims of the algorithm to run a business so he thought a physical product would be a good way to expand. The business is new, but he just signed an exclusive deal with a big box retailer. Tank watched the success of Cards Against Humanity and decided he wanted to create something similar but different. He thought he would sell 1 million units on day 1 even though he only had 64,000 units in stock.
Most of his clicks are in the 25-44 age group. He's sold 1500 games so far; the Sharks are unimpressed, especially when they find out he's in 1900 retail locations. Kevin says he's going to get de-listed in these stores because he's not selling enough per linear foot. He pays $4.97 to $5.47 depending on how many he buys and sells the games for $13.31 wholesale through a broker. They're $30 on his website, but he hasn't sold any direct to consumer. So far the broker has sold $130,000 worth of goods. Daymond asks about the valuation and Tank says he made the number up.
Mark says he picked the wrong number. There's no way the numbers justify a $5 million valuation; Mark is out. Kevin says he spent time in the toy industry and they get thousands of submissions for games and only 1 in 100 takes off. Kevin says he's an influencer too, but he's not writing a check for $500,000; he's out. Tank asks why it's not worth $5 million and Barbara says Tank wants the Sharks to invest on the game's future potential. Mark says Tank would have to do $50 million in sales for the Sharks to get their money back. Lori goes out because of the valuation. Daymond and Barbara follow due to the valuation and Tank leaves with no deal.
Influencers in the Wild Shark Tank Update
The Shark Tank Blog constantly provides updates and follow-ups about entrepreneurs who have appeared on the Shark Tank TV show. On show night, Amazon sold out of the game. Since airing, it doesn't appear Tank is touting the game on his various channels and there haven't been many uploads from game players. He did reduce the price to $20. The Influencers in the Wild Instagram page has 4.9 million followers, but there doesn't appear to be a lot of engagement (relative to his other pages) since the show originally aired. A review of the comments on his Shark Tank Instagram post revealed the "big box store" was Target.
The Shark Tank Blog will follow-up on Influencers in the Wild & Tank Sinatra as more details become available.