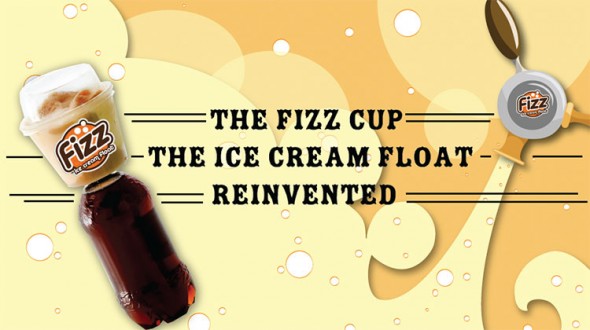 David Chodosh brings The Fizz to episode 106 of the Shark Tank. Chodosh is a toy maker, who invents wacky toys because, as he says, "I'm really just a big kid." He's invested $50,000 of his own money developing this plastic cup that screws on to a 20 oz soda battle. Ice cream can then be added to the cup, and the user squeezes the soda bottle to mix it with the ice cream, creating a treat reminiscent of a root beer float. Chodosh hopes his product will remind the Sharks of their childhoods, and convince them to invest in The Fizz.
The Fizz Shark Tank Recap
Chodosh comes to the Shark Tank looking for a $125,000 investment, in return for a 25% stake in his company. He explains to the Sharks that his purpose is "to create fun." He talks a little about the history of the root beer float, and demonstrates his product. He hands each of the Sharks a sample.
"My kids would love it," remarks Robert Herjavec. All of the Sharks agree that the treat is tasty. Even Kevin O'Leary, the usually acerbic "Mr. Wonderful," calls the product "fun".
Robert Herjavec starts out the conversation about numbers, asking about sales. Chodosh assures the Sharks that he does have sales. He's sold The Fizz through ice cream stores and State Fair vendors, as well as providing the product as a promotional item. He was able to sell an order to Coca Cola as a promotion. Herjavec wants to know more about Coke's order, but Chodosh explains that "they're really not in the ice cream business."
Daymond John asks where the ice cream comes from. Chodosh responds that they can be sold empty for customers to fill themselves, or, ideally, that an ice cream company would sell them, pre-filled. Kevin O'Leary asks if Chodosh has approached the ice cream makers. Chodosh explains that he hasn't "demonstrated big enough sales to get them interested."
Herjavec points out that the product straddles two markets – ice cream and soda. Kevin Harrington says that "This is a product that you'll have to sell to a big corporation," outside his normal area of operations. He's out. Daymond John isn't interested enough in the product. He's out. Barbara Corcoran also declines to offer a deal. Robert Herjavec says that if the big ice cream companies don't buy in as a pre-packaged product, "you'll be fizzing around forever as a novelty product." He believes the risk is too big. He's out.
Kevin O'Leary says that, without a contract with an ice cream company, he doesn't "know how to invest in it." The final Shark has spoken, and Chodosh leaves the Tank without a Shark deal.
The Fizz Shark Tank Update
Although Chodosh couldn't convince the Sharks to invest in their childhood nostalgia, he continued to produce and sell his product. He went on to appear on The Today Show, and his product is still a hit in State Fair and other venues. It's also available through direct-sales on his website. The Fizz hasn't worn off, and this sweet product is still on the market in spite of the Shark's refusal to invest in the idea.
Fast forward to July, 2021 and the company is still in business and sells on Amazon. He got all his patents and IP in order, too.
The Fizz Company Information