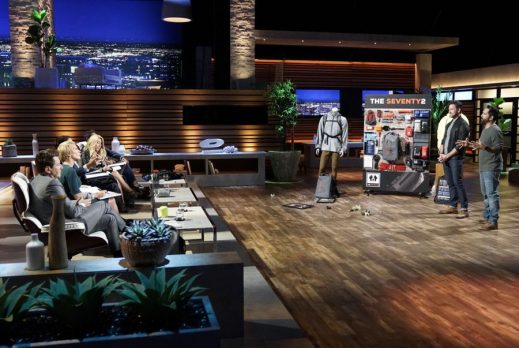 Christian Schauf and Mike Escamilla hope to survive a swim in the Shark Tank when they pitch The Seventy2, their disaster survival kit, in episode 904. The Seventy 2 is a backpack loaded with supplies to help you survive for 72 hours. Most disaster situations get resolved within 72 hours. The company worked with survival experts to assemble a kit that allows people to survive for 72 hours. Called a "survival system," they claim their product can literally be the difference between life and death.
Schauf and Escamilla, along with other co-founders, got the business started with an IndieGoGo campaign that raised $491,406 in January, 2017. They shipped the first pre-sold systems in time for Christmas, 2016. Both Schauf and Escamilla love travel and the outdoors, but co-founder Dr. Eric Meyer is a world-renowned mountain climber and veteran Mount Everest climber. He survived the 2008 disaster on the mountain and saved many lives that day. Needless to say, he knows about disaster preparedness.
The Seventy2 costs $349. Each backpack comes with a mylar thermal survival tent and blanket, flashlight, tools, water pouch, 100 feet of paracord, water filter, flashlight, cell phone charger, air filtration mask, and so much more. There's space in the pack for some personal belongings, too. The company sells and develops other survival items in addition to the all-in-one system. With so many natural disasters making headlines, this business' timing in the Tank is perfect.
Will a Shark want to help The Seventy2 survive the start-up phase?
The Seventy2 Company Information
Video

Posts About The Seventy2 on Shark Tank Blog
Survival Kit from Uncharted Supply Company
The Seventy2 Shark Tank Recap
Christian and Mike enter the Shark Tank seeking $100,000 for 5% of their business. They tell their story and give their pitch in front of a display board holding everything that's in the packs. The Sharks love the sample packs they're given. In six months they have $700,000 in sales, $400,000 from IndieGoGo and the rest from their website. Initially, they cost $209 to make, but they got it down to $144. Each kit sells for $349. They need a Shark's help dealing with factories as they are such a small business, they can't build good working relationships.
Barbara says she'll be a customer, but she's out. Mark was next out. Robert offers $200,000 for 10% and he wants answer right away. As Lori starts to speak, they accept Robert's offer.
The Seventy2 Shark Tank Update
The Shark Tank Blog constantly provides updates and follow-ups about entrepreneurs who have appeared on the Shark Tank TV show. The deal with Robert did close, but it appears he exited the deal in the beginning of 2019. They did a fair amount of sales in the week after their initial air date and had a second surge in sales when Ashton Kutcher tweeted about the product to his 19+ million followers. Since the air date, they introduced a pack that has gear and supplies for two people for $565.
The company introduced some new products as well: The First Aid Plus, the Zeus "life-charger" and Rapid Raft, a life raft that can support up to 400 pounds. In September, 2021, the company announced a collaboration/partnership with Global Outdoor Emergency Support, a life saving app that gives remote assistance in emergencies. Features include: 24/7 access to 30+ doctors available via the app, in-app advice and guidance via artificial intelligence when a user is out of service, first aid and emergency products recommendations and discounts, tips for planning and preparation for an outdoor adventure, the ability to text, call or send images to get instant emergency support and guidance from trusted experts and the integration of Uncharted (The Seventy2's parent company) products  providing remote doctors a clear idea of resources at hand in time of emergency.
As of August, 2022, the company is still in business and has annual revenue of $1.5 million.