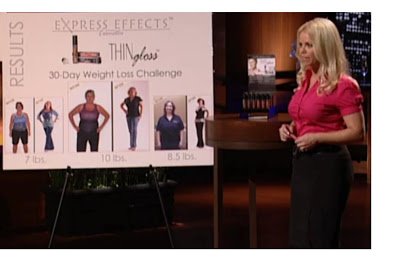 April Morris brings her product, Thin Gloss, to episode 115, in hopes of luring the Sharks with her confidence and determination to succeed. A single mom, Morris has had to reinvent her life and create success where only challenges existed before. Married before she was 20, and left with two children to raise after her divorce a short time later, she was forced to seek out a way to support herself and her family.
She started selling homes for a living, and sold over $9 million in real estate in a single year. She quit her job and started her company, creating a lip gloss brand that she hopes will take off and create a new niche in cosmetics. Will the Sharks buy into her impressive story?
Thin Gloss Shark Tank Recap
Morris comes to the Shark Tank seeking $80,000 in exchange for a 5% piece of her company. She gives some background to her story, explaining how diet pills made her feel jittery and uncomfortable. She began to wonder if there was an herb or aromatic oil that would help boost her mood. While applying lip gloss at a red light, she got the idea of creating a cosmetic that would provide women with that benefit.
She discovered hoodia, an herb that has been shown to reduce hunger. She added aromas that are designed to boost mood and reduce appetite. Without coming right out and saying that the Thin Gloss will help women lose weight, she implies that it's beneficial to those seeking to trim their figures.
What are the Numbers?
Robert Herjavec wants to know about sales. The Morris has sold $26,000 worth of Thin Gloss in the past year, and has a goal of selling $1 million in the next year. She's made $18,000 so far. Kevin O'Leary doubts she'll "make last year's sales," but Morris is undeterred.
Kevin Harrington gets straight to the point, asking if she's done any clinical trials. Morris has spoken to an FDA attorney, and believes she's treading on the safe side of claims. O'Leary disagrees, and Kevin Harrington tells her that the "before and after" photos used in her display are a legal implication of a weight loss promise.
All of the Sharks express concern about the weight loss claims. Kevin Harrington is out on that basis. Daymond John quickly follows. Kevin O'Leary is out as well. Barbara Corcoran is "uncomfortable with the sales pitch," and she's out. Robert Herjavec doubts the idea of being able to go from the early sales numbers to a million. He's out. Morris leaves the Shark Tank with no deal on her Thin Gloss.
Thin Gloss Shark Tank Update
After the Shark Tank appearance, Morris remains confident despite the setback. Her confidence, however, does not appear to have led her to the success she hoped for. Although the airing of the episode created a brief run on her website and a temporary boost in sales, the interest tapered off and in 2012, she announced in a Youtube video that she would no longer be selling Thin Gloss. As of July, 2023, April is the CEO of April Yvette International where she does a lot of motivational speaking.
Video

Company Information
Out of Business