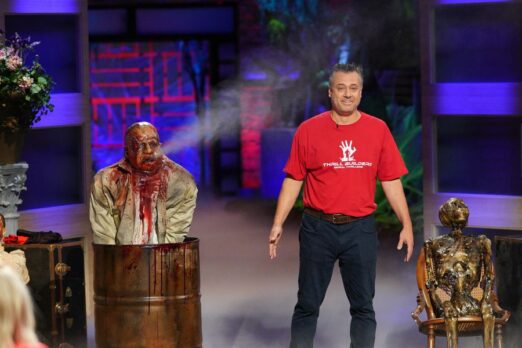 Guy Kitchell hopes to get a Shark to invest in Thrill Builders, his escape room and haunted attractions company, in Shark Tank episode 1506, the first Halloween themed Shark Tank in history. Guy and his team are in the family entertainment business. He runs one of the best companies in its field in the world. They've created attractions for Six Flags, Dave and Busters, Universal, Disney and many more.
Thrill Builders offers complete escape rooms and props and designs some of the spookiest haunted attractions around. They also design and build lazer tag environments and mini golf courses. The reason they're on Shark Tank's Halloween Spooktacular is the haunted attractions business.
The company has built haunted attractions worldwide "from Mexico to Cypress, Hong Kong to France, and literally hundreds of locations in the United States." They'll design a complete haunted house with animated ghouls and they'll even build custon props if you provide a sketch. Guy is likely in the Tank for shock value.
Company Information
Video

Posts about Thrill Builders on Shark Tank Blog
Thrill Builders Shark Tank Recap
Guy enters the Shark Tank seeking $250,000 for a 20% share in his company. He tells the Sharks Thrill Builders has built attractions for some of the biggest names in the industry. Everything from Escape Rooms, mini-golf, haunted attractions and special effects. They're the best in the busienss when it cames to all things thrill inducing. Guy loves Halloween, but the problem is it only happens one day a year. Why can't it be every day?
That's where Thrill Builders comes in. They're building Thrill Factory –  a 50,000 square foot facility for adults and kids that "actually rocks." Thrill factory will have 12 amazing activities like Wizard's Adventures, where kids will use real magic wands to solve puzzles and explore the enchanted forest. Or Hyper Bowling, where interactive bumpers allow you to score points while aiming at moving targets. They'll also include their signature haunted houses that let you blast animitronic monsters as you navigate a haunted maze. The attractions will be fully immersive. Guy knows what works, what people like and what will make the most money.
Questions and Answers
Jason Blum says he's had a "Blum House of Horrors" for many years. He says it's hard to make money with haunted houses. Jason asks about Guy's numbers for his haunted houses. Guy has one haunted house called Wisconsin Scary Land. Guy agrees with Jason's assesment which is why he's moving into family entertainment centers which do make a ton of money. His haunted house was only open 11 nights. They had 68 actors which ate up a lot of his budget. He grossed $450.000 and netted just under $200,000.
Guy's owned his own haunted house and escape room, now he's building the 50,000 square foot facility. It's in a mall and will cost a total of $7.2 million to build. They raised $1.7 million in cash and Guy has a loan for $5 million backed by the SBA. He projects to gross $5.5 million the first year. There is not ticket price to get in – each attraction is individually priced. Kevin wants to know if the $250,000 gets him a piece of the new business or the existing business and the new business. Guy is open to either. Thrill Builders will do $4.2 million in sales this year. Over the last 6 years, he's done $12.2 million. Last year he profitted $900,000. He sold 17% of the business for $1.7 million.
Who's In?
Barbara says she going out. It's not that she doesn't believe in Guy, but she doesn't know a thing about it. Guy says he'll secure the Sharks' investment with Thrill Builders. Kevin says he'd need that. Kevin is intrigued; he has nothing like this in his portfolio but he loves real estate. Jason likes the Thrill Builders business – he thinks Guy is biting off more than he can chew, but Jason doesn't have real estate experience. Jason wants a piece of the whole thing. Lori starts saying she loves it and Kevin butts in and says he's going to make an offer.
After a commercial break, Kevin offers $250,000 for 25%. Lori wants in and offers $250,000 for 25% too. Jason says he wants in and he can help with his huge social following. Jason offers to be the third Shark in the deal and Guy would have all the bases covered. Kevin says if it's three Sharks, he'll need 30% – 10% each. Kevin says if the numbers are real, he's taking Guy to foreign countries.
Mark jumps in and asks why he'd sell 30% of a company that made $900,000 last year for $250,000. Guy says he knows he's undervaluing the company, but it's important that he gets a deal. He says he wants a deal for expansion. He wants to build 9 family entertainment centers in the next 5 years. Lori reiterates the deal: $250,000 for 30% of the entire business.Guy asks if they'll go to $300,000 for 30% and the Sharks agree.
Thrill Builders Shark Tank Update
The Shark Tank Blog constantly provides updates and follow-ups about entrepreneurs who have appeared on the Shark Tank TV show. Once an episode has aired, we monitor the progress of the businesses featured, whether they receive funding or not and report on their progress. The Shark Tank Blog will follow-up on Thrill Builders & Guy Kitchell as more details become available.