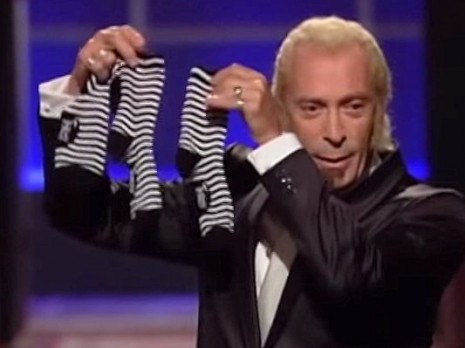 Edwin Heaven comes to episode 108 of the Shark Tank to pitch his Throx. He believes that he has the answer to the eternal mystery and frustration of missing socks in the laundry. Throx are pairs of socks that come with a spare: three socks for the price of two. He hopes to revolutionize sock-wearing for the masses with his idea, and provide frustrated mothers everywhere with a solution to the problem of children losing a single sock from every pair they own.
Will the Sharks sink their teeth into this wacky idea, or will Heaven find himself in Shark Tank purgatory?
Throx Shark Tank Recap
Heaven enters the Shark Tank looking for a $50,000 investment in return for 25% of his company. His presentation is reminiscent of a carnival magician, full of corny flair. He claims that "Throx has legs," and that the company "beats the competition by a foot."
He's had $38,000 in sales in a year, a number that doesn't impress the Sharks. Kevin O'Leary says that the large  sock distributors will "crush you like a cockroach", since the idea can't be patented. The big companies would simply begin selling their own 3-sock packages, crushing Heaven's market share. He's out.
Kevin Harrington sees Throx as a novelty item. He doesn't believe it's a strong enough product to sustain sales. He's out. Barbara Corcoran says she'd "like to buy one or two for Christmas, and put a smile on someone's face," but, like the other Sharks, she believes it's a novelty item. She's out. Robert Herjavec quickly follows, saying it's "too small of an opportunity" for him as an investor. Daymond John is the final Shark to go out, citing the novelty nature of the Throx as well.
In what is perhaps one of the shortest pitches in Shark Tank history, Edwin Heaven leaves the Shark Tank with no investment and no Shark deal.
Throx Shark Tank Update
Although the Sharks didn't take Heaven's idea seriously, he didn't give up. The company still exists as a direct-sales entity. The website offers Throx in a variety of patterns and colors, marketed mostly to the preteen and teen audience. The quirky idea fills a novelty niche, and does well with younger wearers who follow the "mix and match" fashion trend with their socks.
Even without a Shark Tank deal, Heaven has managed to keep his niche company going, and Throx continues to sell to consumers who like the idea of having a spare for their favorite pair of socks. In a July, 2021 update, the company is still going strong with $1 million in annual revenue. As of December, 2022, the status of this business remains unchanged.
Posts about Throx on Shark Tank Blog
Shark Tank Entrepreneur Edwin Heaven Throx After Show
Company Information
Video