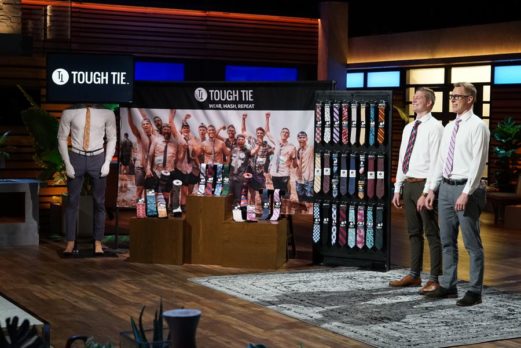 Kevin Shoemaker and Skylar Bennett hope to tie up a deal for Tough Tie, their machine washable, stain resistant ties, in Shark Tank episode 1123. The two men are former commercial real estate brokers who met at work. Their profession required them to dress sharply, but they discovered a hard truth when they both became fathers: babies can mess up ties. Whether it's a little dribble of full on vomiting, the guys had a hard time keeping their ties clean.
That prompted them to seek out a solution. They searched for machine washable ties and couldn't find them. What they did find was an Arizona designer that helped make their dream of machine washable ties a reality. Tough Tie began selling product in 2017 and they've added to their line under the business moniker Tough Apparel.
In addition to ties, they sell belts, socks and, in a sign of the times, face masks. The ties repel liquid, so stains are few and far between. When a stain does occur, just pop them in the washing machine. They even have a little micro fiber tip so you can clean your glasses. A standard tie costs $30 and a custom tie (for a wedding or other event) costs $50 with a $20 set up fee.
The guys expanded quickly from ties to other products and they want to expand even more. They're hoping a Shark will like their clothing and their business model. Will a Shark make a tough decision and invest in Tough Tie?
Company Information
Video

Posts about Tough Tie on Shark Tank Blog
Tough Tie Shark Tank Recap
Kevin and Skylar enter the Shark Tank seeking $100,000 for 15% of their company. They tell their story and give their pitch, then give out samples. They had $208,000 in sales last year (2018) and they're on track to do $400,000 in 2019. They put $43,000 of their own money into the business and have $150,000 in debt. They want a Shark to relieve them from their current financial burden. Robert is the only Shark to make an offer: $100,000 for 35%. They try to negotiate 33.3% but Robert stands firm. Ultimately, they do the deal with Robert.
Tough Tie Shark Tank Update
The Shark Tank Blog constantly provides updates and follow-ups about entrepreneurs who have appeared on the Shark Tank TV show. The deal with Robert never closed. After airing, they renamed the business to Tough Apparel. As of July, 2021, they added dress and casual shirts, ratchet belts and socks to their line. As of June, 2022, annual revenue is $4 million.