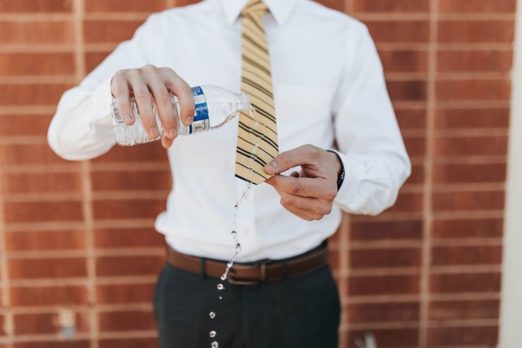 Tough Ties creators Kevin Shoemaker and Skylar Bennett are snappy dressers. They always wore the best suits to their office where they were commercial real estate brokers. That was all fine and dandy until they became dads. Babies can be messy little buggers and the two snappy dressers were soon dealing with drool, spilled food and spit up on their fancy ties. This made them look for something that would wash off easily and still look good. When they couldn't find a product that solved their problem, they did what any self respecting entrepreneur would do: they created one.
In a nutshell, that's the Tough Ties story. The two men found a manufacturer to make their liquid and stain resistant ties. They're machine washable, too. They come in fairly traditional patterns and colors, but there are some wild Tough Ties too. A regular tie costs $39 and their "premium" ties are $45. They'll even do custom ties for special events like weddings for a small fee. Each tie also comes with a small microfiber cloth sewn into the tip for cleaning glasses or screens.
Since taping their Shark Tank segment, the guys have changed the name of the business from Tough Ties to Tough Apparel. Now, in addition to ties, they sell socks, belts and, as a sign of the times, face masks. All their sales are done online. They want to continue to expand their offerings to include more kinds of apparel, so they likely want a Shark to help them down that road.
My Take on Tough Ties
I used to own literally hundreds of ties. When I worked in downtown Boston and wore a suit to work every day, I was a clothes horse. I'd often walk to nearby Filene's Basement to buy ties and shirts at lunch. Those days are over and my work clothes consist of gym shorts or bathing suits, tee shirts and flip flops. It's a much easier (and less expensive) wardrobe to manage.
I have one suit now for weddings and funerals and maybe a half a dozen ties. I'm not in the market for a new ties, but if I was, I'd get one of these. Every tie I ever owned needed dry cleaning, which gets expensive. I tried washing a silk tie in the washing machine once and it didn't work out well. I like the idea of being able to wash a tie myself. If these guys were in business 15-20 years ago, I'd probably own a dozen of their ties.
Will the Sharks Tie up a Deal?
I think there will be some interest in this pitch. Mark rarely wears ties, though he started to this season; could it be he invested in a tie business? Kevin is a clothes horse, so if the quality is there, he could bid too. Daymond is always a target for clothing companies, but he is very picky about what he gets involved with, so he's hit or miss. Lori might like the water resistance gimmick since it's demonstrable. Robert has several online clothing retailers in his portfolio, too.
Any Shark could bid for a variety of reasons. The fact that the company has pivoted from just ties to other apparel could indicate a Shark's influence. If the guys come in with good numbers, I think they'll entertain multiple offers and leave with a deal.