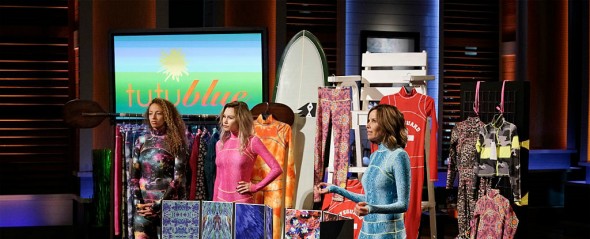 Actress Sarah Buxton pitches TutuBlue, her line of full-length, "long beach suits," in Shark Tank episode 717. Buxton has a long list of TV credits, but she's most well-known for her portrayal of Morgan DeWitt in The Bold and the Beautiful. Ms. DeWitt was a classic soap opera villain: she had a child out-of-wedlock with her lover, tried to kill various members of her lover's family, and was a general scheming bitch!
In real life, Buxton is a lover of the beach who had a bout with skin cancer a few years back. She didn't like applying sunscreen, so she created Tutu Blue, long bathing suits that have UPF50 sun blocking capabilities. The suits are quick drying and practical for any outdoor, beach and sun related activities. Currently, she only makes TutuBlue for women, but men's and children's versions are "coming soon."
Unlike other so-called long swimsuits, Buxton's suits fit more like a regular bathing suit – not a neoprene/spandex racing suit. They are made in the USA and Buxton designs the many wild and colorful patterns. A woman's suit costs $189 on Amazon, $220 on the company website. Buxton likely wants a Shark to help getting into retail and with assistance manufacturing her product line.
Will a Shark "suit up" with Sarah Buxton and invest?
TuTuBlue Shark Tank Recap
Sarah enters seeking $200K for 25% of her business. She's here to change the look of swimwear. She says we've all been to the beach, applying sun lotion, and always missing spots. Her 1 piece beach suit blocks 98% of the sun's rays, drys fast, and keeps you cool.
Mark asks if the women onstage are all in the same yoga class. Sarah hands out samples and Robert asks at what age to women want to cover their bodies. Barbara says her bottom dropped out at age 40. Sarah's only been in business a month and a half and she's sold $4K worth of suits.
The fabric doesn't allow the sun to penetrate and it keeps you cool. She created it after being diagnosed with melanoma. While recovering, she spent time at the ocean and developed the idea. Mr. Wonderful likes the idea – she's taken something made for kids and made it an adult product. He wants to know if it's a "cougar tube!" Barbara says she'd look good in the suit, but it's way too early; she's out.
Sarah says she has a shark repellent print with banded sea snakes on it. Mark liked the personal story, but feels Sarah hasn't told the dermatology side of the story. He likes his entrepreneurs to have more direction and focus and there is too much work; he's out. Robert asks why she didn't focus on the dermatology angle, he thinks it's too early; he's out. Lori says Sarah looks familiar and Sarah says she was always cast as a villain. Lori thinks Sarah isn't there yet, she's out. Mr. Wonderful likes the idea because of the sun issues and "cougarisms," but it's too much money; he's out. In the hall, Sarah says she's still going forward with passion and she wants to make it a new bathing suit alternative.
RESULT: NO DEAL
TuTuBlue Shark Tank Update
Although Sarah failed to interest the Sharks in her full-body UV resistant bathing suits, she continues to be excited for the future of her product. Shark Tank often has a positive effect on sales and raises awareness for new products, even if they don't get a deal. This effect boosted TuTu Blue, and Sarah landed a contract with a Miami hotel and spa. The company has asked to have their own artist's work printed on the suits, and have placed a large order for their customized suits.
By 2017, her site lists children's and women's sizes with no mention of men's suits at this time. The suits are available in a number of designs and colors. Two retailers, one in California, and one in Florida, currently carry the suits. They are also available on Amazon. It appears that Sarah has taken the Sharks' advice to heart and is narrowing her focus. If Sarah keeps growing her company slowly, she may in time gain a foothold in this very competitive market with her unique approach to beach wear.
In 2018,  she finally added men's, boy's and baby's suits. Her three retail outlets are Canyon Ranch Spa Club at the Venetian in Las Vegas, Canyon Beachwear in Santa Monica, and the Faena Hotel in Miami Beach. Her Amazon Store is now HUGE. As of June, 2022, she's still very much in business in 2022 with annual revenue of $11 million.
Posts About TuTuBlue on Shark Tank Blog
TuTuBlue Company Information
Video