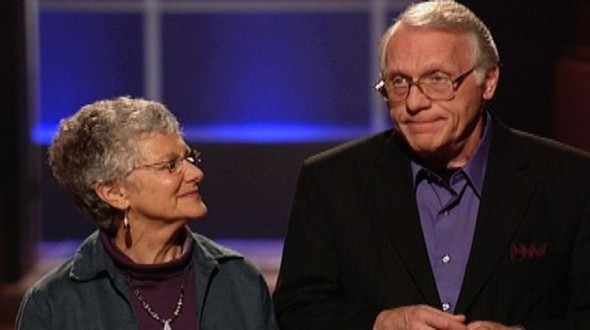 Buck and Arlene Weimer come to episode 106 of the Shark Tank with their product, Underease Underwear. Both psychotherapists, the Weimers created the undergarments as flatulence reducers for people like Arlene, who suffer from bowel challenges like Crohn's disease. The filtered underwear are designed to reduce odor and embarrassment for the chronically flatulent. Will the Sharks bite, or have the Weimers come up with a stinker of a product?
Underease Underwear Shark Tank Recap
The Weimers come to the Shark Tank seeking a $55,000 investment in return to 25% of their business. When Buck Weimer explains the product, the Sharks chuckle, but start nodding when Arlene explains that she's been wearing the garments for over 15 years. The couple explains that they were inspired by a particularly "sumptuous" Thanksgiving feast. The consequences of that meal drove Buck to begin experimenting with different materials. He finally hit upon an airtight material and a charcoal filter to combat offensive odors.
The Sharks are intrigued, although stifling giggles at the subject matter. The Weimers explain that they started they started their business with a direct-sales website. Their sales in the last year were over $37,000, but the year before, with extensive advertising, sales were over $60,000. Arlene explains that the sales have gone up every time they've had advertising and exposure.
Robert Herjavec tells the couple that the "market is very small." He's out. Daymond John believes that the products are something that would be supplied through a provider of medical supply products. It's not his niche market, so he's out. Two Sharks have turned away, and three remain. Kevin Harrington joins the others in declining to offer a deal. Only Barbara Corcoran and Kevin O'Leary are left. Corcoran tells the Weimers "I think you should peddle happy marriage. You look like the happiest couple I ever saw," but she'd "rather have gas and wear sexy underwear" than wear the product. She's out. Kevin O'Leary says they've done a great job with an unusual product, and an uncomfortable topic, but he also declines to offer a deal. The Sharks have spoken, and the Weimers leave the Shark Tank without a deal.
Underease Underwear Shark Tank Update
Despite the Sharks turning their nose up at Underease Underwear, the Weimers continue to offer their anti-flatulence products via their website and direct sales. Presumably, the national television exposure provided their sales a boost. The unusual undergarments continue to sell through mail order and other outlets, masking strong odors and making strong sales. With or without the Sharks, the anti-flatulence filters have been a hit with customers who prefer smelling sweet to wearing sexy lingerie under their clothing.
In July, 2021, this notice appeared on the company website:
Closing Our Business
After 20 years of Under-Tec serving you…
Due to our financials, and after 20 great years of gratefully serving you, our loyal community, we will be closing down Under-Tec Corporation.

We are keeping our customer service email and phoneline open for now. Please reach out to us if you'd like to know about remaining products or alternatives.

We sincerely appreciate your support and business over the years, and we wish you health and well-being.
OUT OF BUSINESS.
Underease Underwear Company Information