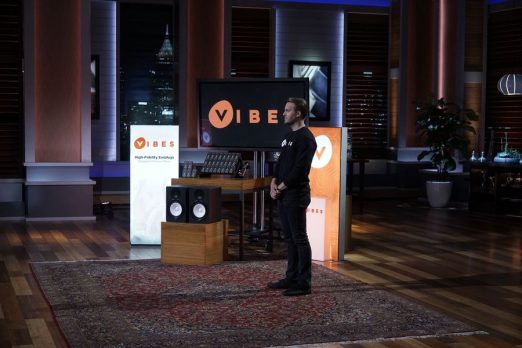 Jackson Mann wants the Sharks to hear him out when he pitches Vibes, his specialty earplugs for concert goers. Vibes earplugs don't block sound like traditional foam earplugs, they lower decibel levels so you can still hear live music and conversations without risking damage to your ears. Mann got the idea for the product after he ruptured an eardrum while standing next to a speaker at a concert.
Unlike traditional earplugs which randomly block all sound, Vibes has tubes that filter the sound to levels that won't cause damage. You can also carry on a conversation in a loud place. If you ever tried to talk to someone at a concert, you know how difficult it is; Vibes makes it possible.
Each set of plugs comes in small, medium or large. They cost $23.99 and a portion of each sale goes to the Hear The World Foundation, a charity that helps disadvantaged people suffering with hearing loss. Mann sells his product on Amazon, at all House of Blues locations, and at music festivals and concerts all over the country. He wants his Shark Tank appearance to "serve as a tipping point to let a massive audience understand the issue and a solution to a better concert experience." Will the Sharks hear him out?
Vibes Shark Tank Recap
Jackson enters seeking $100,000 for 20% of the business. After explaining the business, he hands out samples. Lori thinks they're comfortable. Kevin wants to know the difference between these and foam earplugs. All the Sharks put their plugs in and a loud brass band enters. Judging by the wince on Mark's face when he removed his, they work!
After a discussion about decibel levels, Sacca remarks that the band isn't wearing Vibes. When he says that, they all pull them out of their ears. Sales are $30,000 in the last five months and Jackson says he needs to "get them out there" more.
Sacca says the problem is the purchase is too far removed from the need. Mark owns arenas where these are needed, but they'd need to be "giveaways." Vibes cost too much to give away, so Mark is out. Chris and Barbara soon follow. Lori thinks it's a hard sell, so she goes out too. Kevin can't get over the cost difference between Vibes and foam plugs, but he likes how Jackson's are invisible. He offers $100,000 for 35% PLUS two dollars for every pair sold until he gets his money back. Jackson declines and leaves without a deal.
Vibes Shark Tank Update
The Shark Tank Blog constantly provides updates and follow-ups about entrepreneurs who have appeared on the Shark Tank TV show. After airing, Jackson sold out his inventory and went into back-order mode. He had some inventory issues in the months following, but he's worked them out and now has a lot of stock in Amazon fulfillment centers. He also found Vibes are good for people with sensory processing disorders and has a new niche market there.
The company hit $2 million in sales in 2018. As of 2021, they've dropped the price to $19 and they are still very much in business.
Posts About Vibes on Shark Tank Blog
Vibes Company Information
Video