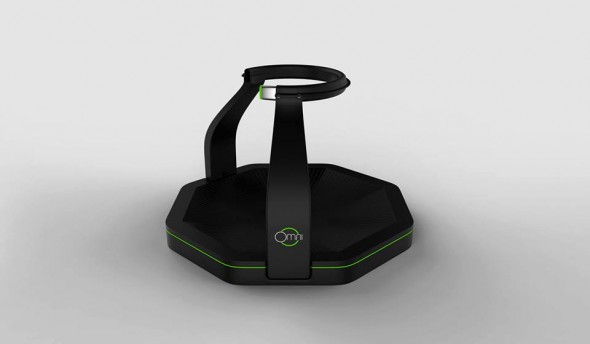 Jan Goetgeluk brings some virtual reality to the reality TV hit Shark Tank when he introduces the Sharks to Virtuix Omni on December 6. The Virtuix Omni raised a ridiculous $1,109,351 on Kickstarter (he was only asking for $150K). It's an "omni directional treadmill" that interfaces with Razer Hydra motion sensing game controllers and Oculus Rift virtual reality gaming glasses to give a video gamer complete immersion in any game with a keyboard interface.
The Virtuix Omni base, along with specially designed shoes, allow gamers to move freely inside a computer game environment allowing players to walk, run, jump, crouch, or strafe or perform any other movement programmed into a game's keyboard interface. This sounds like science fiction, but the Virtuix Omni is a game component that brings virtual reality gaming to life.
Goetgeluk also has TRAVR (pronounce Trevor), the first game made specifically for the Virtuix Omni, in development. Reviewers and early users are going wild over this technology and it could literally be a "game changing" piece of technology.
Virtuix Omni Shark Tank Recap
Jan comes into the Shark Tank seeking an investment of $2 million for 10% of his company. The Virtuix Omni presents gamers with the opportunity to virtually join the video game in a 3D world. It's essentially a multi directional treadmill that lets the gamer run, jump, strafe, and interact with the game environment. He's been selling the Virtuix Omni through his website for $499, and the Kickstarter campaign raised over $1 million.
Mark Cuban brings up the fact that the Omni is connected with the Oculus Rift, a virtual reality headset. Kevin O'Leary questions the valuation, saying Jan is asking him to "pay what you'll be worth in two years."
Barbara Corcoran believes that wives will object to the amount of space the Virtuix Omni takes up in the home, and that retailers won't want to dedicate the floor space to demonstrate the unit. She's out.
Daymond John can "see the market," but believes that gamers won't use the Omni because it's asking gamers to be physical. He's out.
Robert Herjavec just doesn't buy into the premise. He agrees with Daymond John, that not enough gamers will want to be physically involved with their games. He's out.
Kevin O'Leary says "I hate it when you make me pay for two years from now today." He disagrees with the valuation and thinks there's "too much risk." he's out.
Mark Cuban says "I get what you're doing," but he believes that the niche is too small and that the market is too competitive. The final Shark goes out, and Jan leaves the Shark Tank without a deal.
Virtuix Omni Shark Tank Update
Although the Sharks were skeptical, when Facebook acquired the Oculus Rift, all of a sudden the Virtuix Omni had a much larger potential market. Mark Cuban didn't bite during the taping of the Shark Tank, but his company did pony up an investment in the Omni, joining with other investors to raise a total of $3 million in seed money.
Gamers are drooling over the immersive experience offered by the Oculus Rift, and the Omni takes those experiences to the next level. Not only will hard-core gamers  seek out this new technology, parents will embrace the chance to get their kids up off the couch and moving as part of their time in front of the video game. It may even reach into other areas, finding applications in areas like combat training for the military. The Virtuix Omni represents a new trend in video gaming, and it looks like Mark Cuban decided to stick his toes in the water after all, and take a chance on riding this wave to success.
In 2019, the company developed the Omni Arena, a compact, enclosed area with several of the Omni treadmills in it. They can be found at Dave and Busters and Sky Zone and other venues. As of August, 2021, the company raised $19 million in crowdfunding, plus more money from Mark Cuban, to release the Omni One. They were supposed to release the home version in the second quarter of 2021, but it has not been released yet. In July, 2022, the company opened its 60th Omni Arena at Xtreme Action Park in Fort Lauderdale, Florida. The Omni One is still available as a "pre-order" item at this time. Annual revenue is $9 million.
As of June, 2023, the company has 70 Omni Arena locations and they're shipping beta units to early investors. The company is still actively crowdfunding and claims to have a waiting list of over 35,000 customers. They expect a consumer version to be available by Q4, 2023 at a price tag of around $3000. In October, 2023, the home version is still on pre-order.
Posts About Virtuix Omni on Shark Tank Blog
Company Information
Video: