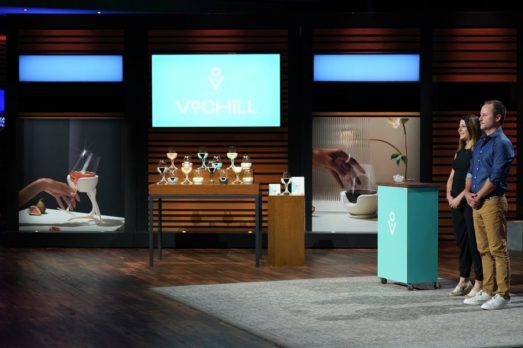 Lisa and Randall Pawlik hope the Sharks will drink up and invest in VoChill, their unique and patented wine chiller, in Shark Tank episode 1410. The Pawliks have always enjoyed wine, but they found their wine got warm quickly in the Texas heat. They wanted a way to keep wine cool without putting anything into their wine glasses. Since Randall is a life-long "tinkerer," he devised the VoChill "prototype" with some tin foil and ice cubes.
The product is a kind of cradle for a wine glass. The cradle goes in the freezer for three or more hours until the interior liquid is frozen. When drinking wine, you set the glass in the cradle to appropriately chill your wine. It works on whites and reds. Most people don't chill red wine, but it's supposed to be drunk at 60 degrees, not room temperature. A brief rest in the VoChill can moderate the temperature.
They kept their invention close to the vest until they had their patents in place and officially launched in 2020 – just in time for the Covid-19 pandemic. The made in the USA product found initial success with wineries who are big buyers (and sellers) of the VoChill. They were also voted best wine gift of 2020 by USA Today and NBC News. A single VoChill costs $49.95 and a stemless VoChill is $44.99. You can find them on the company website and Amazon. They likely want a Shark's help with marketing and inventory.
Company Information
Video

Posts about VoChill on Shark Tank Blog
The VoChill Wine Glass Chiller
VoChill Shark Tank Recap
Lisa and Randall enter the Shark Tank seeking $300,000 for 5% of their company. Lisa says she needs a drink and starts to pour wine into a glass with ice. Randall chastises her and she says it's getting warm in here and who likes warm wine? Randall says people do all kinds of things to chill their wine from putting ice or other frozen things to using metal cups that make your wine taste awful. That's why they created VoChill, the world's first and only personal wine chiller. It keeps wine crisp, cool and refreshing without compromising the wine or the wine experience. The detachable cradle is refreezable and your wine glass rests inside it keeping the wine cold between sips. It bringss red wine to cellar temperature in 10 minutes too.
The Sharks examine their samples and pour some wine. Lisa explains to kevin that the cradle detaches. Mark sips his and is surprized – he has a martini. The stemmed version costs $49.95 and the stemless version costs $44.95; they cost $9.21 and $8.62 to make respectively. They sell online from their website. For white wine it's designed to preserve the chill in the glass. For Red wine, it will bring the temperature down to 62 degrees in 10 minutes.
Kevin explains that ice in wine started in St. Tropez in 1955 when Bridgette Bardot asked the server to put ice in her Rose' wine. Today, 50% of Rose' is consumed with ice. This cause wine makers to blend Rose' wines differently. HE askes about sales. Last year (2021) they did $820,000 and so far this year (2022) they have $1.8 million in sales so far. They sell on their website and Amazon. The company isn't profitable yet because it costs them $57 to get a customer. They lost $470,000 in 2021.
Gwyneth asks about the reaction from wine drinkers and the wine community and Lisa says they love it. Kevin offers $300,000 for 10% with a $2 per unit royalty until he recoups $1 million. Mark says Kevin is "the wine guy" and it's not a fit for him; he's out. Barbara says it's good functionally but the product is ugly; she's out. Gwyneth says she has every wine gadget out there but she never uses them; she's out. Lori said she'd want to change things around but doesn't think that's what they want; she's out. Lisa tells Kevin she's not interested in the royalty piece and he'd get his money back when there's an exit. Lisa counters with $300,000 for 8% and Kevin shakes his head "no." Kevin says he'll only do a deal with a royalty component and the Pawliks politely decline.
VoChill Shark Tank Update
The Shark Tank Blog constantly provides updates and follow-ups about entrepreneurs who have appeared on the Shark Tank TV show. The company saw the standar "Shark Tank Effect" uptick in sales after the original air date. Oprah declared it one of her favorite things and the Shark Tank appearance led to more exposure on Food Network, NBC News, USA Today and many other media outlets. The company began stocking wineries with their products and apparently sales are brisk there.
The Shark Tank Blog will follow-up on VoChill & Lisa and Randall Pawlik as more details become available.