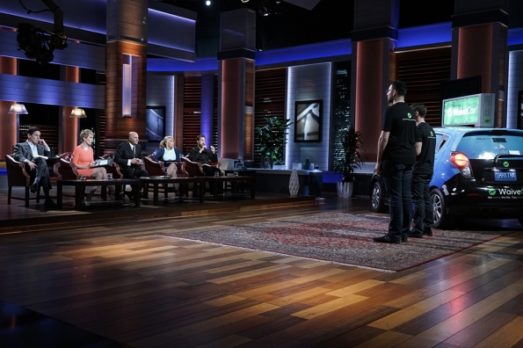 Zoli Honig and Isaac Deutsch hope to do a deal for WaiveCar, their advertising supported free car sharing service, in Shark Tank episode 821. They started the business in 2016 and partnered with Hyundai to help the manufacturer introduce the public to its electric vehicle, the IONIQ.  Hyundai provides the vehicles to the company who lets drivers drive the first two hours for free and then it's $5.99 an hour after that.
Waive earns its money by selling advertising space on the vehicle's electronic billboard mounted on the roof. Ad content is delivered based on location through a series of roof top 4G towers and an onboard GPS. There is currently a pilot program in Santa Monica – where the guys are from. Vehicle storage is easy as the city has ample, free parking with charging stations for electric vehicles.
The only requirements to use the service are drivers must be 21, have a valid license and a credit card. People reserve and pay for their vehicles through the Waive app. The pilot program in Santa Monica got over 3000 users in its first month. They're using both Hyundai and Chevrolet vehicles in the pilot. They likely want to expand to more cities – a Shark could help with that.
WaiveCar Shark Tank Recap
Zoli and Isaac enter the Shark Tank seeking $500,000 for 2% of their business. They explain the business and give their pitch. Then, the questions start. Lori says she's seen these cars. They tell Barbara the cars need to be returned to any electric charging station in the city. The cars cost about $1000 a month and the breakeven point is about $1500 a month.
So far, they've raised $1.3 million. To get to profitability on the pilot, they need to sell out all 20 cars at $5000 a month. They'd make $300,000 on that in a year. To make more money, they need more cars on the road. The guys get a special deal on the advertising display units from the manufacturer, too.
Mark thinks advertising is over saturated, he's out. Lori thinks anyone can copy it, she's out. Robert is next, citing the small number of advertisers in place. Chris follows after some heated discussion. Kevin offers $500,000 as a 36-month loan at 12% interest for 4% equity in the company, plus an 80% discount on unsold ad space. They counter with the same deal at 2% equity and Kevin agrees.
WaiveCar Shark Tank Update
The deal with Kevin closed and he promotes the  company on his website. Just after airing, the company deployed 19 vehicles to Cal State LA for use on campus and around the community. In October, 2019, they ceased posting on social media. In January, 2020, an insurance issue caused Cal State LA to cease the WaiveCar program on its campus. Signs marked "ATTENTION!! WAIVECAR VEHICLES WILL BE TEMPORARILY OUT OF SERVICE DUE TO INSURANCE SWITCH." They never came back online and the University shut down in mid-March due to the Covid-19 pandemic.
They later made a new business called WaiveWork which rents electric cars for $280 per week, but they're using the same social media that's been dark since October, 2019. Zoli has been working at REEF since March, 2020. Isaac joined the same company in December, 2020. As of June, 2021, the social media has not updated and the Waive website is a black page with the company logo on it. The company was acquired by REEF in December, 2021 for an undisclosed amount. By September, 2022, the WaiveCar domain redirects to REEFDRIVE.com, the company that acquired Waive; they're an electric vehicle sharing program similar to Waive. Isaac and Zoli still work there.
Company Information
Video