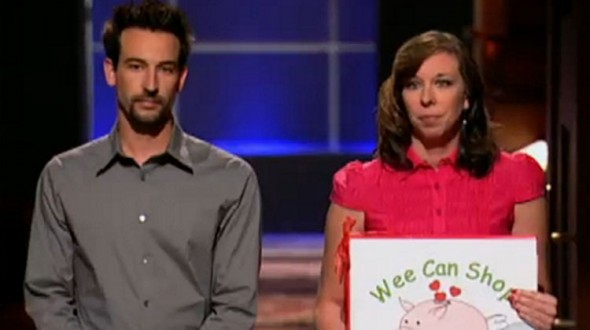 Kimberly, Hope, and Matthew Foley bring their idea, called Wee Can Shop to the Shark Tank in episode 113. The sibling trio believe that children as young as two years of age will enjoy their child-sized storefront, which allows pint-sized shoppers to browse for gifts for loved ones in their lives. The unique storefront is augmented by a birthday party service and an online presence, making the business a "triple threat." Will the treble hook snag a Shark deal, or will the siblings leave the Shark Tank high and dry?
Wee Can Shop Shark Tank Recap
Kimberly and Matthew Foley present their case to the Sharks, asking for $200,000 for a 30% stake in the company. Kimberly reads the Wee Can Shop story from an oversized story book, explaining how the children use kid-sized carts to wander through a small town of storefronts.
Kevin O'Leary asks if parents have created a backlash against making children into consumers too soon. Kimberly responds that parents have been overwhelmingly supportive, encouraging them to create franchises.
Robert Herjavec wants to know about their income. Matthew responds that their profit has increased 100% every year for the past 6 years. In the last year of operations, the profit was $13,000. The low number visibly pains Kevin Harrington.
Robert Herjavec has a question for Kimberly. "If you can't earn enough from your store to make a living, what makes you think you can sell this as a franchise to someone else?"
Kimberly responds that "in a prime retail location we believe it can do nothing but flourish."
Kevin O'Leary's doubtful. He says that the business isn't making a real profit yet, and questions whether it's wise to expand before the concept is proven.
The Sharks appreciate the passion that has gone into the business, but O'Leary tells the pair that the store needs to be clearing $200,000 a year to justify its existence. He says; "There's nothing more evil than a business that isn't making a profit. You have to fight evil with evil. You have to shut it down. For that reason, I'm out."
Barbara Corcoran agrees, calling the store a "hobby that you love," but not a business. She's out.
Kevin Harrington disagrees with O'Leary. He tells the Foley siblings that they should "continue to grow the business" before attempting to branch out into franchises. He says he would bring his son there to shop, but as an investment, it doesn't make sense. He's out.
Only two Sharks are left. Daymond John says "At this point, you're failing. But failure, to me, is just an opportunity to begin again, more wisely." He declines to make an offer.
Robert Herjavec is the final Shark. He tells the siblings that "there isn't any data that supports expanding this business today." He's out, and the Foleys will leave the Shark Tank without a deal.
Wee Can Shop Shark Tank Update
After all the Sharks decline a deal, O'Leary lectures the Foleys, telling them that they should shut the business down, that it's not going to make a profit in the long term. He tells them to "write down a date, by which you need to turn a profit."
The siblings leave the Shark Tank believing their store serves an important purpose. Kimberly Foley has no intention of letting go of the family dream. The Wee Can Shop stayed open for a few more years, before finally folding under the financial pressures inherent to supporting a niche market. It seems that, in this case, Mr. Wonderful was right.