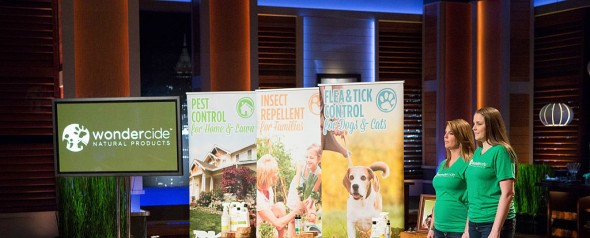 Laura Alter and Stephanie Boone pitch Wondercide, their line of all-natural pest control products for people and pets, in Shark Tank episode 725. They make Wondercide in the USA and have flea and tick control products, pet supplements, pet skin care products, home pest control products, mosquito repellents and much more. Their mission is "to eliminate chemical pesticides from our daily lives by providing safe and effective alternatives to protect pets, families and homes from pests."
The idea for Wondercide came about when Stephanie's dog, Luna, became deathly ill from a flea control product. Rather than put her beloved dog down, she nursed her back to health and sought natural ways to prevent fleas and ticks. She found that 75% of US households use chemical pesticides at home resulting in measurable levels of chemicals in the air in many homes. Chemical pesticides can make pets and people sick or worse.
Wondercide never uses artificial colors or fragrances, preservatives, pyrethrins or synthetic pesticides in any of their products. They have a wide variety of items and prices are on par with name brand products promising the same results. People can find them easily on Amazon and in many independent pet retailers throughout the country. They are a company that gives back too: they make regular contributions to pet shelters and they give employees 12 hours of paid time off to volunteer for various charitable organizations.
They likely want a Shark's help with expanding their retail footprint. Will a Shark see the wonder in this business and invest?
Wondercide Shark Tank Recap
Laura and Stephanie come into the Shark Tank seeking $500,000 in return for 5% of their company. They're looking for a Shark investment in order to improve their outreach and move from strictly online sales to shelf space in retail locations.
Kevin O'Leary wants to know the breadth of the product's application range. Laura explains that the products can be used on pets, people, and around the house. The Sharks typically look for three things in products: sales, something proprietary, and a strong market demand. Mark Cuban wants to know what makes them unique from other product lines on the market. Robert Herjavec clarifies- there are a lot of "natural" pet products available.
Stephanie claims that their products are 100% active ingredients, while most things on the market contain 95% water. Their lab-tested results show that the products are effective against fleas, ticks, and bed bugs, killing all insects within minutes.
The unique formulation and solid scientific foundations might get the Sharks' attention, but the sales are what impresses them. The pair have sold $4 million so far, and are on track to sell $3.5 million in the upcoming 12 months. The pet market represents 75% of their sales, with 80% of the sales online.
Daymond John wants to know about margins. When the ladies reveal a 70% profit margin, he responds "That's like talking dirty to me." The Sharks are well on their way to being hooked on Wondercide.
The next question is, what will the ladies do with the investment. They reply that they wish to push their products into the wholesale market, to begin selling to retail outlets. Mark Cuban questions the wisdom of focusing on retail when their online sales are going so well. Laura explains that they will continue to focus on online sales, but want to expand their reach. Mark asks why not simply triple their online growth, to which Stephanie responds "Let's partner, and figure it out."
The entrepreneurs who are willing to be guided to the Sharks tend to get a deal. Daymond John offers an opportunity to license their product to one of his lines. They're willing, but uncomfortable with his ask – 15% in return for the $500,000.
Kevin O'Leary makes an offer. He's willing to give them the $500,000, in exchange for a 6.75% royalty, until he receives $1.5 million back, then he'd drop the royalty. He'd want 3% equity.
The Sharks start circling, complaining that the valuation is too high, and that the ladies are not willing to give up enough equity.
Mark Cuban doesn't like the brick-and-mortar sales approach. He's out.
Daymond John reiterates his offer, but Lori Greiner jumps in. She wants to make an offer. The ladies are willing to consider more equity, if the cash investment is higher. Before Lori can articulate an offer, Kevin offers to join with her  and bring her in on his offer.
Lori has an offer of her own. She's willing to give them the $500,000, but wants 50 cents per unit sold until she's repaid, and 3% equity. She asks Daymond if he'd be willing to go in with her, but he's not interested in joining the deal.
The ladies have three offers on the table. They converse briefly before accepting Lori Greiner's offer. The Wondercide ladies leave the Tank with a Shark deal.
RESULT: DEAL with Lori for $500K with a fifty cent per unit royalty until she's repaid.
Wondercide Shark Tank Update
The Shark Tank Blog constantly provides updates and follow-ups about entrepreneurs who have appeared on the Shark Tank TV show. Once an episode has aired, we monitor the progress of the businesses featured, whether they receive funding or not and report on their progress.
Since Shark Tank, Wondercide has continued its explosive growth. They ultimately walked away from the deal with Lori because it "wasn't right for the business at the time." When visiting the site, consumers are offered a variety of products in different sizes and scents, and there are even customized Wondercide toys available by Pride Bites, another product line that landed a deal with Lori and Robert Herjavec in Season 7.
Sales continue to soar as fleas, ticks, and other pests drop, well, like flies. These ladies are on a mission to rid the world of pests, in the name of a beloved dog. Rest easy, Luna. Your legacy lives on.
In 2019, a class action lawsuit was filed against the company because the "green" product "contains synthetic chemicals and at least one of the ingredients is linked to skin irritation and allergic reactions." The lawsuit was "voluntarily dismissed with prejudice because the parties reached a settlement agreement, the terms of which have not been disclosed."
As of May 2023, the company is still in business and doing well with annual revenues estimated at $1-$3 million.
Posts About Wondercide on Shark Tank Blog
Wondercide Company Information
Video