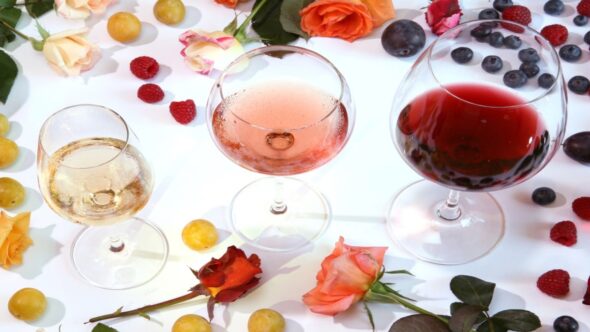 Chaz and Whitney Gates give the Sharks a taste of Wondry, their unique wine company, in Shark Tank episode 1408. Wondry wines, unlike traditional wines, aren't made from grapes, they're made from fruit and they have twice the alcohol content of "regular" wine. They come in a variety of flavors including peach, apple, mango and more.
Whitney grew up watching her uncle make wine out of all sorts of fruits and even vegetables like corn. She knew she wanted to be a wine maker, so she studied the craft at Grayson College in Texas. Whitney spent the first 12 years of her career in brand management positions for companies like Kimberly Clark, Nestle, Coca Cola and Keurig/Dr. Pepper. She went all in on Wondry in July, 2021. Chaz is the COO of the company and he still works as legal counsel for Texas Instruments.
They started Wondry during the Covid-19 pandemic, which was a bit of a challenge. They do all the wine making, bottling and shipping from their facility in the Dallas area. All their products are organic and bottles run from $15-$25. They were able to get distribution a few months after they started up in Dallas area Target and Total Wine stores. The company has a conscience too: with every purchase they "make a donation to under-represented entrepreneurs, as they help bring their communities one step closer to unity & inclusion." They likely want a Shark to help them expand nationally.
Company Information
Video

Posts about Wondry on Shark Tank Blog
Wondry Shark Tank Recap
Chaz and Whitney enter the Shark Tank seeking $185,000 for an 8% stake in their emerging wine empire. Whitney asks if the Sharks are tired of boring wines, complex hand crafted cocktails and drinks with artificial ingredients. They have the solution: Wondry, international award winning wines infused with fruit extracts and crafted with a kick. They have 13.9% alcohol and are a bridge between regular wine and craft cocktails. They're aged in small batched with their proprietary infusion process. They are some of the 1% of black wine and they're out to disrupt the wine industry.
The Sharks try their samples. Daymond likes his. Their Sangria Especial is their best seller. The Cran Apple Blanc is their top holiday season wine. The Sharks also taste their Southern Country Cream – their unique spin on cream liquor. Mark likes the Cran Apple. Wondry Wines have double the alcohol of other sweet wines. Kevin says most of the wine sold in the USA is under $14.99 per bottle. Wondry is slightly higher than that at $18.99 because they use premium, all natural organic ingredients.
They currently sell in Dallas area Target stores, Total Wine Stores and direct to consumer. Each bottle costs $3.61 to make and they wholesale for $13.31 to retailers. They started the business in August, 2021 – around 11 months ago. In that time they have $250,000 in sales with a $60,000 profit. That's a 32% operating margin. The couple invested $100,000 of their own money.
Next, Whitney tells the story of how she learned wine making from her uncle and she wanted to recreate it. She went to school to learn wine making. Chaz says he wasn't supposed to be here. He was raised by a single mom and he went to the University of Arkansas Pine Bluff. After that, he moved to Washington DC and worked as a legislative aid. While doing that, he got his Master's degree at Johns Hopkins, worked for 2 congressmen and went to China to teach at a University. Next, he went to law school at American University in Washington DC and became a corporate lawyer. He moved back to Dallas and works for Texas Instruments. Peter jokingly says Chaz has underachieved.
Who's In?
Kevin wants to know if the couple has started talking to big box retailers like Costco. While they haven't talked to Costco, they have engaged Target and Total Wine early in their business. Wondry is the number 2 black owned beverage business nationwide. Daymond likes the couple and the wine, but he doesn't know anything about the wine business – he's out. Lori is impressed by the couple but she doesn't like things with sugar. She likes investing in things she'll use, Lori's out.
Peter says he has a wine business in England and it was a tough journey, he's out. Mark asks what they need. Chaz says they're wine makers, they need an automated bottling system. They do all their own bottling. Kevin says if he's going to invest time and resources into a wine business, it's going to be his own; he's out. Mark offers $200,000 for 15%. Whitney counters with $250,000 for 15%. Mark counters with $225,000 for 15% and the couple does the deal! Mark tells them they're amazing and he's glad they're local. After the couple leaves, the Sharks toast to Le Chevalier du Testavin.
Wondry Shark Tank Update
The Shark Tank Blog constantly provides updates and follow-ups about entrepreneurs who have appeared on the Shark Tank TV show. After airing, the company did so many sales they delayed shipping two weeks. On show night, Mark Tweeted:
"What an amazing company. Glad to be partners !!"
The Shark Tank Blog will follow-up on Wondry & Chaz and Whitney Gates as more details become available.