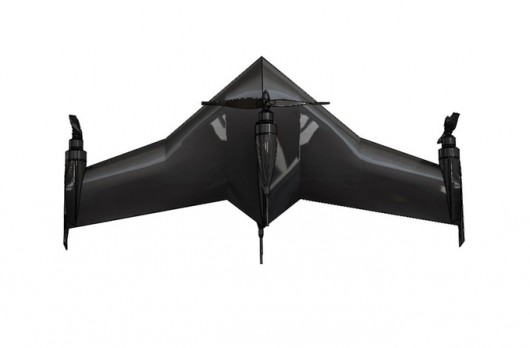 JD Claridge and Charles Manning bring the future of unmanned aerial vehicles (UAV) with their company, X PlusOne, to the Shark Tank in episode 705. Claridge is an aerospace engineer who formerly worked at Quest Aircraft and is the inventor of the X PlusOne XCraft. Manning is the CEO of mobile analytics technology company Kochava; he came on board because of the innovative design and technology in X PlusOne products. Together, they raised over $140,000 on Kickstarter in late 2014 to get the project "off the ground."
The X PlusOne XCraft is part drone, part remote control airplane and can reach speeds of up to 60 MPH and altitudes of 10,000 feet. It hovers like a drone – once in the air, on-board sensors tilt it 90 degrees and it flies forwards – like a plane. The high speeds and GoPro Camera mount make for super-fast fly-by videos. An automatic stabilizer built-in to the X PlusOne XCraft lets users flip a switch to immediately put it back into hover mode. The flight time is 12-22 minutes; the faster you go, the quicker the battery drains – but they're easily swapped out.
The company, based in Sandpoint, Idaho, hopes to keep all manufacturing right here in the USA. They're hiring and they're selling on a "pre-order" basis right now. A do-it-yourself kit will set you back $1,549 and a fully tricked out, ready to fly model with all the bells and whistles costs $2,199. They also sell accessories like camera mounts, extra batteries, flight control boards, and spare propellers.
They likely need an investment to build out manufacturing capabilities. Will a Shark take flight with X PlusOne?
X PlusOne Shark Tank Recap
JD and Charles enter flying the X PlusOne XCraft Drone in "drone mode" seeking $500K for 20% of the business. They say we're witnessing a new dawn of aviation with the drone redefined. The XCraft can soar to 60 MPH and 10,000 feet. They show the Sharks the wing and how it rotates and explain the benefits of speed in capturing fast-moving objects on film. It can run autonomously if the user builds a flight plan. They remind the Sharks (and the public) that recreational flyers must keep the drone in the line of sight, lower than 400 feet and away from airports.
They did $173K in  pre-sales on Kickstarter and sell them for $1899 retail. The drones only cost $400 to make.
After the pitch, they introduce the Phone drone. It lets a smart phone fly, leveraging the sensors that already exist in smart phones. It's still in development, but costs less than $100 to make. They plan to sell it for around $300. Their "secret sauce" is their IT and they want to license it out.
Daymond wants to know why they're here. They explain they need $250K for inventory for the XCraft and $250K for making the Phone Drone. Kevin immediately offers $750K for 25%. Daymond smells a nasty Shark fight and offers $1 million for 25%; Kevin immediately matches it. Lori offers $1 million for 20%, then Kevin matches that!
Upon seeing the Sharks fight, JD and Charles ask if all 5 sharks will all go in at a $10 million valuation. Daymond says "I smell greedy people!"
After a break, the announcer explains the company went from a $2.5 million valuation to $10 million. Daymond tells a story about a baby crab who wouldn't share his food because he was SHELLFISH. JD and Charles ask which Sharks are not interested. Mark stays quiet as they step into the hallway at Kevin's request.
Robert says each Shark could do $300K for 5%. When JD and Charles come back in, the Sharks propose what Robert said, which makes the total figure $1.5 million for 25% with all Sharks in for 5% each. All Sharks are in, except Mark.
Mark wants to know who else has offered them money and Charles explains they've had many offers from institutional investors that want to shape the company. Charles and JD value the Sharks' investment more, because venture capitalists don't want to get their hands dirty. Mark likes that answer and says he's in too!
RESULT: DEAL $1.5 million for 25% split equally among all five Sharks.
X PlusOne Shark Tank Update
The Shark Tank Blog constantly provides updates and follow-ups about entrepreneurs who have appeared on the Shark Tank TV show. Immediately following the east coast airing of this segment, the X PlusOne website crashed. It was back up the next day. The Phone Drone Kickstarter project raised over $170K in the days following the show, blowing right through their $100K goal. The five Shark deal never closed and the company went on to raise $1,068,687.08 on StartEngine in 2018.
They've introduced new models. The Panadrone operates with a tethered power cord for unlimited flight time in a confined area. The Maverick Cinema has a high resolution camera. The Maverick Mapper can autonomously map up to 40 acres in one 25 minute flight.
As of May, 2021, the company is reportedly in negotiations to provide drones to the Department of Defense. They also partnered with T-Mobile to provide the carrier drones. In July, 2022, they no longer sell the phone drone. The company doesn't sell direct to consumer anymore either. They're focused on selling to the public safety, mapping, defense and construction and mining industries. The company also plans on developing flying cars in the future. Also in July, 2022, the company raised over $130,000 on StartEngine. In January, 2023, they have estimated annual sales of $6 million.
Posts About X PlusOne on Shark Tank Blog
X PlusOne Company Information
Video