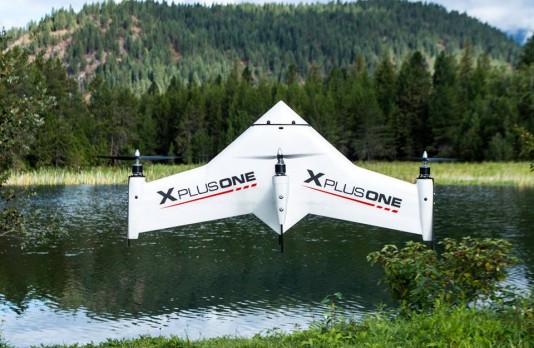 JD Claridge and Charles Manning introduce the XCraft Drone to the Sharks and the world in episode 705. Claridge, an aerospace engineer, invented the XCraft – a drone that's part "traditional" drone and part remote control airplane. Like regular drones, it hovers in helicopter-like fashion for take-off and landing. When it reaches a certain altitude, it tilts on its axis, becoming a plane capable of speeds up to 60 MPH. On-board software controls the switch from drone to "plane," so even novices should be able to handle flying the XCraft. With camera mounts on it, a speedy XCraft can take stunning fly by footage regular drones aren't capable of.
XCraft is made by XPlusOne, the parent company, located in Sandpoint, Idaho. Claridge and Manning, a technology executive, got seed money for the XCraft on Kickstarter, raising $143,400 on just a $50,000 goal. Drones are hot right now and the XCraft is clearly the next generation of this technology. In a second Kickstarter, the company unsuccessfully tried bringing the Phone Drone, a drone that uses a smart phone as the control mechanism and camera . They fell almost $130,000 short of their $250,000 goal.
XCraft drones are currently for sale on the company website. They cost between $1549 and $2199. Claridge and Manning are likely looking to the Sharks for some help getting their manufacturing operations up to speed.
My Take on the XCraft
This thing looks extremely cool and fun. I've fiddled with remote control helicopters and planes before, but never a drone. I've been meaning to get one to take pictures with. I have a few friends who have them and they take fantastic aerial shots.
Drones are going to be very hot this holiday season. I saw a TV report that sales are expected to get into the hundreds of millions of dollars. With the growing popularity of drones, the FAA is contemplating regulations. Reports of airline pilots seeing drones while flying are becoming more frequent and people are concerned about collisions.
That said, I STILL WANT ONE! This might be the coolest Shark Tank product ever – I'm IN!
Do Sharks take a Flyer?
The ABC press release for this episode says: "In one of the most exciting moments of Shark Tank history, the ante is upped when the Sharks start to bid OVER the asking price for one product and the million dollar offers start to fly. But will greed burst the bubble before a deal is set?"
The XCraft is the company I believe will field these million dollar offers. The XCraft is more than just another toy drone; the commercial and military applications are endless, which is why they'll get big offers. XPlusOne has big plans, too. They want to make the XCraft in the USA, specifically Sandpoint, Idaho. They're going to need a significant amount of cash to get that up and running.
The bidding may get exciting, but will a deal get done? This has the makings of one of those pitches where the Sharks lay it out on the line with their money, but the entrepreneurs don't want to give up too big of a bite to the Sharks. I think, in the end, they'll walk without a deal for just that reason.